You know when you sit in the thrift store hemming and hawing over whether or not to buy things that you're really not into it. I mean when you are in the ZONE you can assure yourself that you can use whatever it is you find or sell it on EBay. None of this - should I get it? Do I need it? crap.
Anyway, I hit the Savers yesterday and here is the relatively uninspiring haul: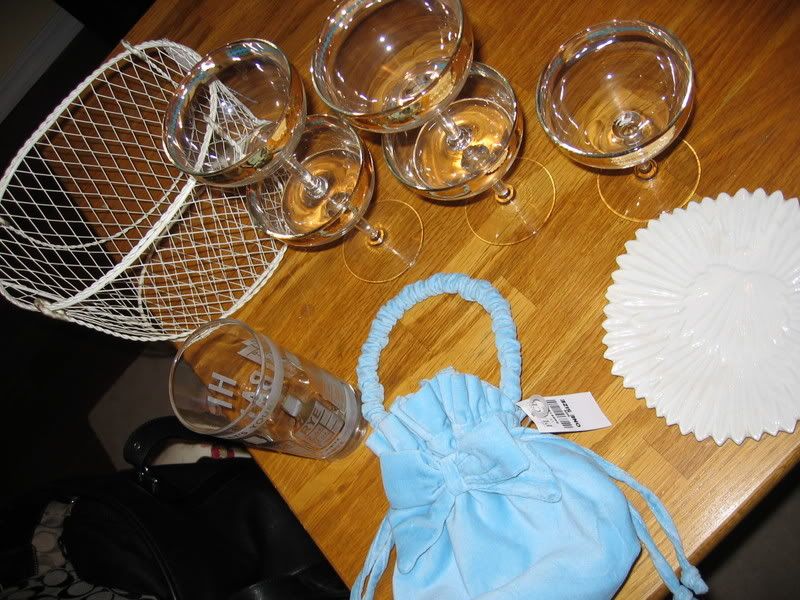 (Pardon my borderline nauseating picture)
wire basket - $2 -
very shabby chic in my opinion, it's actually ivory in color.
highball glass - 69 cents -
I love vintagey bar ware
blue velvet purse - $2 -
for a little girl and so so cute! Tags still on to boot. Going in the gift stash for Luis' neice (if I don't keep it myself ha ha)
white candle plate - $2 -
I guess it's for a candle, it says Italy on the back
champagne glasses - 69 cents each -
these have a story which is why this thrift day is only
relatively
uninspiring . . .
Luis' mother passed away before he and I met. Marleny La Rota Restrepo was a single mother who had her only child at 37. She lived in Queens (in the house Luis and I live in now) and worked hard to support herself and Luis. She passed away in September of 2000 after a battle with esophagal cancer. Marleny never smoked a day in her life but did work around some pretty harsh chemicals as one of her many jobs was cleaning offices. Luis, being a typical guy, didn't really keep many of his mother's things. I did find some pictures and letters and some household items in the basement including a near complete set of the above champagne glasses. There were 7 of the champagne glasses and 8 small wine glasses in the same pattern. You can sort of see them here in this uninspiring picture: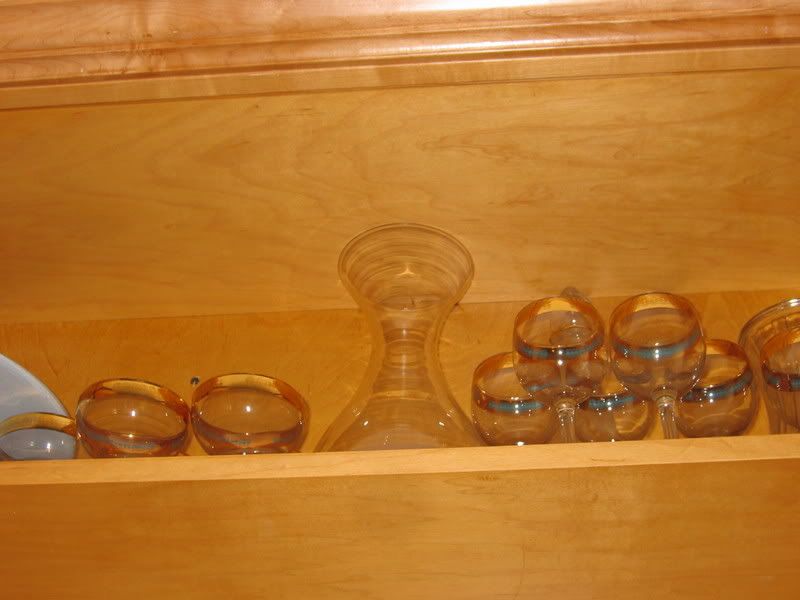 So anyway it was kind of nice to stumble across not just one but FIVE additional champagne glasses especially since to my memory I have never seen this pattern before. Now we have 12 which is exactly the number of china place settings I inherited from my Grandmother. China Pattern:
Mikasa Adrienne
incase you ever come across it. ;)
Also, if anyone recognizes the champagne glass pattern please let me know. It's a gold rim with circles in the it and it's blue along the inside. This is the best close up I could get: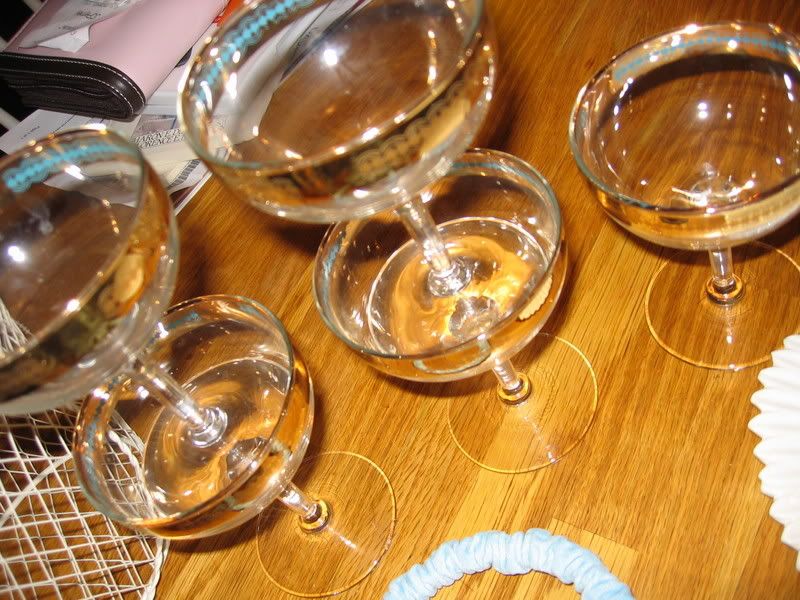 Cheerio!
Rebecca