WOW! I am overwhelmed with all the response we've had to the P&B swap! Yeah! I feel like a real blogger now. You know, except for the fact that I'm lucky to find a few minutes to post each day. Ugh. Things are a bit hectic for me to say the least. The wedding is growing ever closer and my job has become overly demanding all of a sudden. Please wish me luck that I don't lose ALL of my marbles.
So first, let's talk swap. Tomorrow is the last day to sign up. We have had such a great response! Here is updated list of participants:
Selena
Heidi
Jane
Sara
Lucy
Heidi
(Spiritual Knitter)
Sarah
Peta
Paula
Christy
Sue
Laura W (got your email thanks!)
RaNae
Angie
Joolz
Diane
Heather
(please get in touch to confirm if you'd like to participate!)
Mzfixit
MeLisa
Tia
(who doesn't have a blog but you can click on her name to see some of her wonderful crafts!)
Chris
Tiffaney
Shara
Including me that's 23 people! What a great turn out. If I've missed anyone please let me know. We'll be matching everyone up randomly and sending you your swap partners email to exchange addresses by the end of the week. (Hopefully sooner!) So if you haven't yet sent me or Lucy an email address please do so!
I haven't been crafting much except for the swap so I don't have much to share. I did get a good amount of thrifting in over the holidays but due to space restrictions had to leave most of it in Baltimore until I return this weekend. One thing I did find and LOVE is this vintage (I think?) Ann Klein table cloth: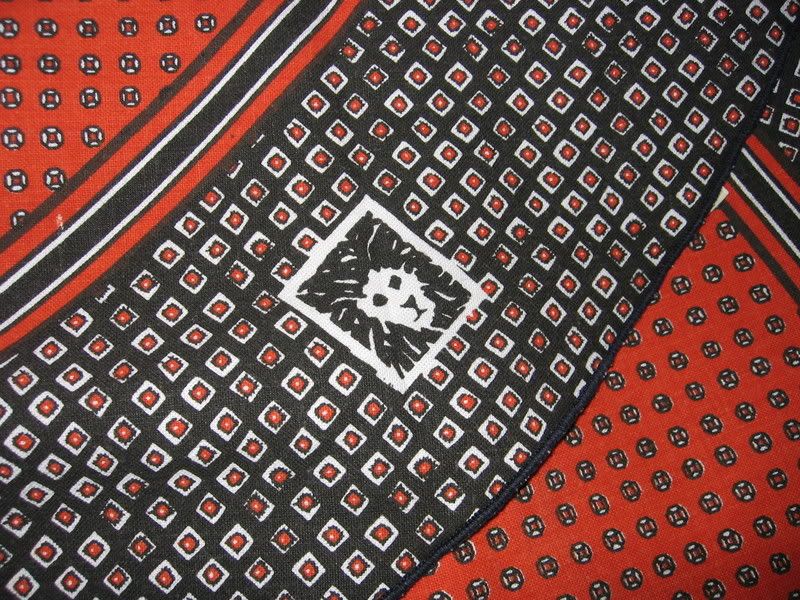 It's oval and very sassy. I paid a whoppin' $3 for it. I might put it on my square table anyway. :)
I promise to try to visit your blogs more often this week. I've been lurking on some where I normally post so know that I am still in awe of your Thrifty (and crafty!) Goodness.
Cheers - Rebecca