I broke my new sewing machine. Seriously. The needle pierced the plastic bobbin case and it won't turn. I cried harder than I have in a long time. Sweet Louie said it must be defective and is exchanging it today. (I told you I cried hard.) I also cut a slice into my finger that is prohibiting me from knitting or crocheting. Sigh . . .
In better news, I'm in full on wedding mode and actually feel like I'm accomplishing a few things. I looked to see if I had any pictures of weddingy goodness to share and only found this: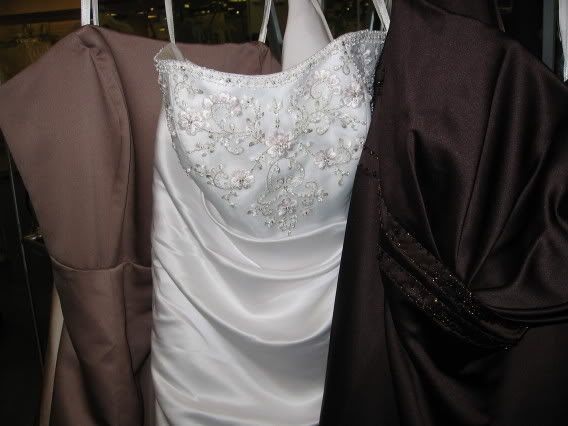 That would be my dress in the middle and the bridesmaid dress I choose on the right. The picture is crappy but it's chocolate brown. I need to get caught up on my pictures so I have more to share.
In other pink & brown news, we are going to have the best swap EVER. Here is updated list of participants:
Selena
Heidi
Jane
Sara
Lucy
Heidi
(Spiritual Knitter)
Sarah
Peta
Paula
Christy
Sue
Laura - please send me your email or blog, I couldn't find you!
RaNae
Angie
Joolz
Diane
Heather
Mzfixit
WOW! Pink and brown sure is popular! :) I'm very excited for this swap. There's still time to sign up!
Well I'm off for the weekend. I have big plans to get organized (um yeah) and perhaps have a new sewing machine. (sob)
cheers!
R