First off, HELLO! I know, I've been a crappy blogger lately. I went out of town for work for a few days and then got sick. Not a fun week for me to say the least. I would LOVE to show you the wonderful things I made yesterday from my sick bed but I don't want to spoil my pink and brown surprise for
Peta
. :) So instead, I thought I'd give you a little peek inside my cupboards . . .
Cabinet Number 1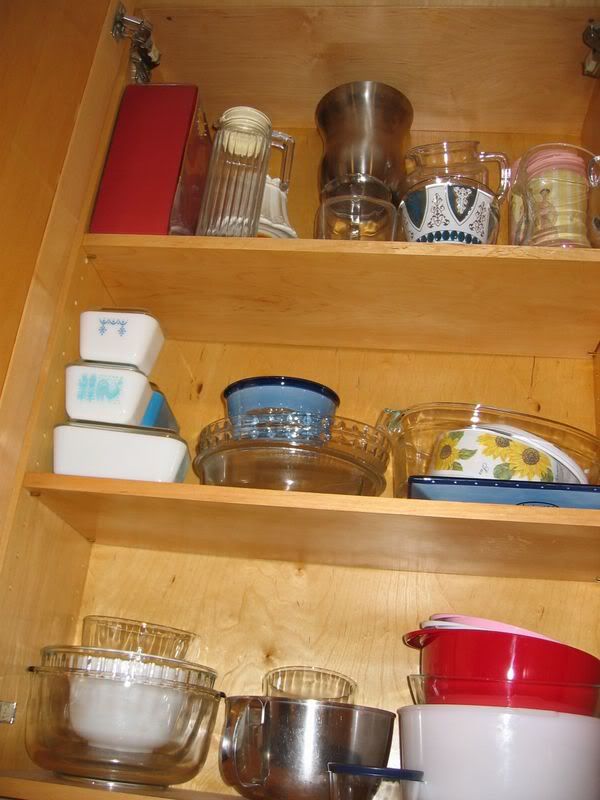 Does one woman NEED all this crap? I buy up every "neat" piece of glassware I can find. (And you know that stuff on the top shelf doesn't out much.) You can see my mini collection of refridgerator dishes (and
Vaxgirl
better not invite me to her house again or I'll be trying to steal
this little brown one she found
.)
Cabinet Number 2
You didn't think it could get worse, did you? See those glasses on the bottom right? The ones with the "R" on them? Yeah, I buy them everytime I see them as the R is both for Rebecca AND Restrepo (my soon to be new last name.) And if you look way at the top you'll see those fab champagne glasses
I talked about last time
. And that blue cake stand would be cake stand NUMBER FIVE. Again I ask WHY?
Kitchen Cart

You'll see my new favorite creamer and sugar set there on the left and my favorite "chef's bowls" of which I think I have every imaginable size. You'd think I would bake more, wouldn't you?
I have the storage space, as you can see, because my kitchen ceiling is 10 feet up. We had the cabinets custom made so they extend all the way to the ceiling. I need a step ladder JUST to reach the second shelf! I do think it's high time I went through what I have and see what needs to stay and what goes back to the thrift store. I know I should get on Ebay one of these days with some of my more interesting pieces and maybe after the wedding I'll jump into that idea.
So I guess now I've thrown down the gauntlet for all of you to open your cupboards and show the blogosphere your obsessions.
cheers!
Rebecca