Hello! Yes I'm back. Finally. Things are oh so hectic for me lately but I won't bore you with details. I see that dearest Lucy
posted the swap partners
over at
Sweet Repeats
! Three cheers for her and her wonderful organizational skills. :) I am thrilled that my partner is the ever fabulous
Peta
! So swappers, please reach out to your amazing partners and let the swapping begin! (and dear Jen, please know that Lucy will be in touch soon with partner info!) If you haven;'t heard from your partner yet, drop me a line!
So, what did I do this weekend? I had a wonderful bridal shower thrown by my sister and mom and all my good girls. I'll talk more about that once I have some pictures to share. I also, of course, managed to sneak in some thrifting while in Baltimore: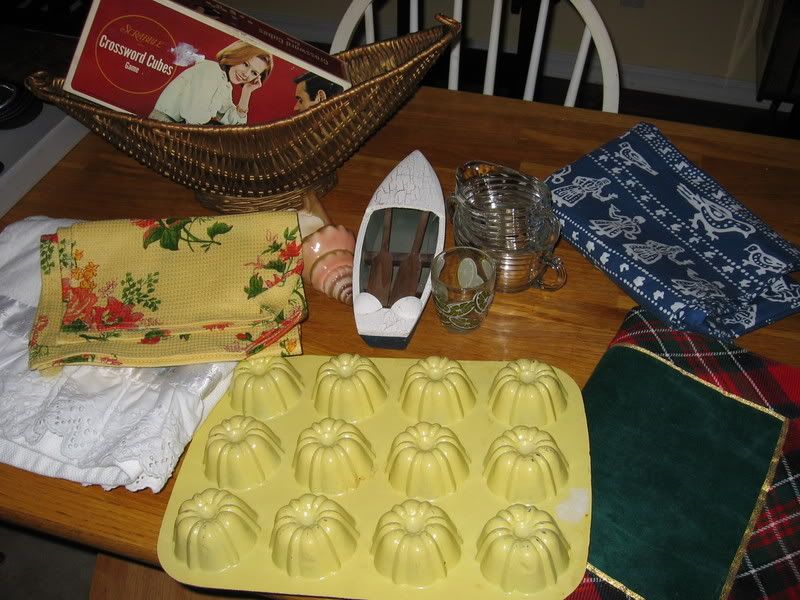 Crossword Cubes by Scrabble - $1.50 -
the date on this is 1968 and the lady on the front made me think that it would be a totally enthralling game!
gold basket - $1 -
love the shape
blue & what table cloth - $1.50 -
I adore all things blue and white and particularly the little Dutch people on this cloth.
plaid placements by Martha Stewart - $2 for 3 -
it's Martha, what can I say?
yellow bundt cupcake pan - $1 -
how could anyone not buy this?
white towel with lace - $1 -
looks brand new and oh so shabby chic, doncha think?
floral/yellow dish towel - 45 cents -
love these waffle weave towels!
seashell planter/dish thing - $1 -
this is probably from the dollar store but I like it anyway. My porch has a beach theme.
wooden boat - $1 -
something else for the beachy porch
shot glass with limes - 45 cents -
one of my favorite things found but when I washed this all the paint on the limes came off! :(
sugar bowl & creamer - $4 -
I LOVE THIS. Want to see a close up?
Oh yes, I am quite fond of this set. :)
It was so nice to get my thrift on. I also MAY have found something for the pink and brown swap hmmm . . .
Tomorrow, I'll share my favors. I know you're the edge of your seats. :)
cheers!
Rebecca