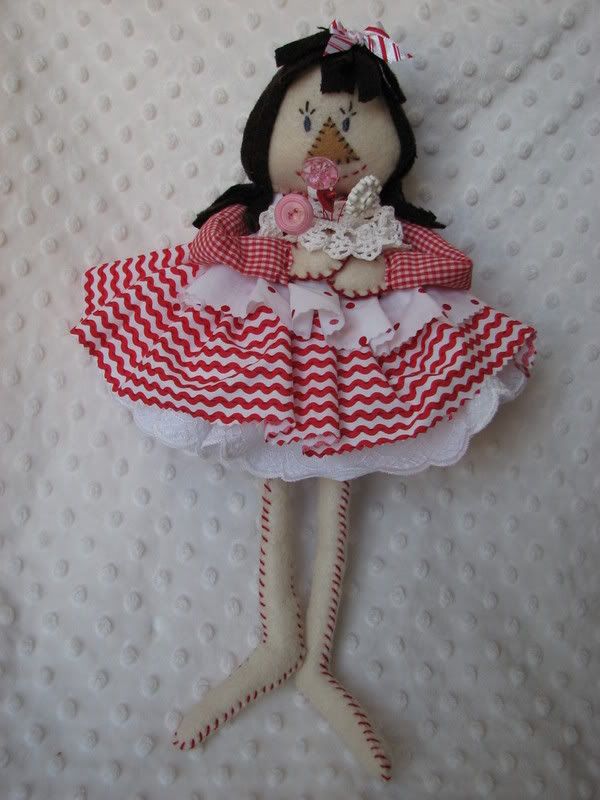 *picture by folded gingham*
Isn't she the sweetest thing you've ever seen?? Val is my first Etsy purchase and she was made by the uber talented Tiffaney at
Folded Gingham.
She will have a place of honor on the shelf in my living room as she goes so well with my red and yellow decor. (sidebar - red and yellow as in French Country not McDonalds ha ha) Tiff was also so sweet and included three adorable wool felt strawberries! I love them and hey, they are red and also match! :) I'll have pictures of these goodies soon and thanks again to Tiff not only for the lovely strawberries and mailing Val to me so quickly but for allowing me to use one of her photos as well.
I've discovered so many wonderful blogs since the pink and brown swap. My blogosphere keeps getting bigger and bigger! I only wish I had more time to visit and comment with everyone. Once this wedding is over (I find myself saying that a lot lately) I will be seeing all of you much more often. Please go and check out
An Odd Duck
. Katie is brand new to blogging and her first post is wonderful! I know she'll continue to post regularly, RIGHT? ;)
How are the pink and brown goings on? I actually mailed my package to Peta today so I'm ahead of the curve, which is rare for me so future swap partners . . . don't get used to it. The deadline to send out isn't until February 7th so continue to let those creative juices flow.
I hope to be back soon with some more inspirational posts and hopefully some new pictures. (Joolz! You need to come to my house and take pictures of my stuff okay?)
Untill next . . .
R