Happy New Year and here's to a fresh start for all. :) I went just about nuts at Mom's last week not being able to get much computer time and not knowing what all of my favorite bloggers were up to. But now that I'm back I RESOLVE to get caught up on all my blog reading and writing. :)
Our holidays were wonderful. Luis and I are very blessed to have such wonderful family and friends. Since Luis has such a small family having lost his parents at a young age, I am especially touched by how he's taken to my family like he was meant to be there. We spent a week and a half at my parent's house and got to visit with many friends as well. We received some lovely gifts for our home and I got lots of new clothes which I really needed. Also, Luis bought me
THIS
. Now I don't know much about sewing machines but this one seems quite fancy pants to me. I did manage to sew a curtain panel in 10 minutes where I struggled on my old machine for days trying to get the thread to stop winding around the hook. So needless to say, you'll be seeing quite a few more sewing projects from me in the coming days!
Speaking of projects, here are some I completed in December as gifts: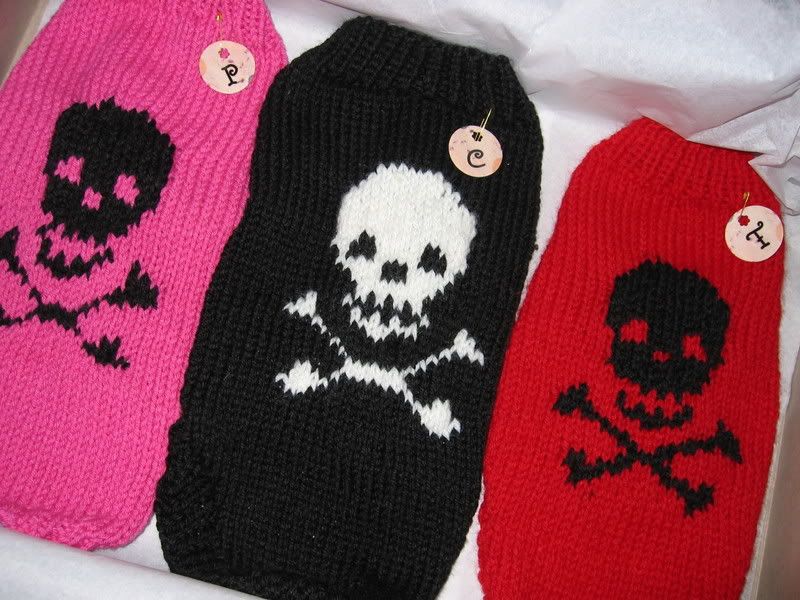 Three
doggie pirate sweaters
for these little guys: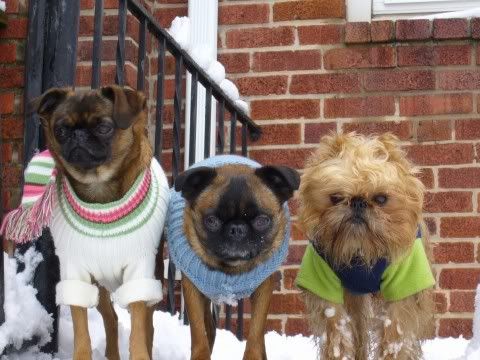 As you can see, they like sweaters. Unlike
SOME PUPPY
I know.
I also made
mittens
and a
neck warmer
for my dear friend Dita:
Made from the lovely and soft
Paton's SWS
. One of my New Years Resolutions is to finish what I've started. So all those half done projects sitting around my very messy craft room will either be completed or ripped out. I have quite a list of resolutions but I'll save those for another post.
PINK

&

BROWN
SWAP
Well ladies, it's on! Time to sign up for the Pink & Brown swap. Here are the details:
Sign up by January 10th and send out by January 31st. That's three weeks and I'm hoping that is enough time for everyone. So far I have heard from:
Apron Thrift Girl
(Selena)
Heidi
Sara
Lucy
(who is a co-co-ordinator ha ha . . COCO. Sorry, need more coffee.)
Jane
If I missed you or you'd like to sign up please email me (or leave a comment) and I'll add you. I haven't been good about checking email and sending responses (sorry!) so I apologize if I missed you or if I haven't responded to your comments. :(
Details:
Pink and brown is the theme. Please include one crafted item, one craft supply and one thrifted item. I know it will be tough to find one thrifted item that is both pink AND brown so one thing of one of those colors or one of each would work as well. I'm very excited about this swap since these are my wedding colors and I know I'll be inspired by all of your incredible craftiness.
xoxoxo
Rebecca