I've made the decision and
NYCegirlKnits
and Thrifty Goodness are going to be living in sin. I took a page from Hillary at
Wee Wonderfuls
who decided to combine her thrifting blog, Thrift Craft, with her crafting blog to maximize her posting. I will miss NYCeGirlKnits but I do get a lot more visitors here at Thrifty Goodness and who are we kidding, this girl ain't been knitting much these days. So, as the word THRIFTY encompasses all things done with keeping money in mind (like hand crafting all your holiday gifts) and GOODNESS is well, goodness (like guiltless desserts and steamed shrimp), I feel my crafting, cooking and thrifting life adventures can all live happily together in a small one bedroom blog.
Any questions? :)
To get started, let me tell you about my love for all things Martha. (Yes even jailbird Martha)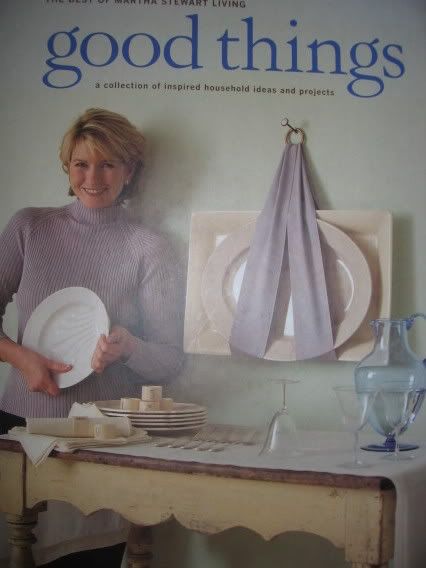 Mom picked up this Good Things book at the thrift. It's a collection of Martha's good things up through 1997. (My doesn't Miss Martha look young!) There are quite a few things I'd like to try including the ribbon hanger for platters on the cover. Here are a few others:
Mini bundt cake pumpkins - so cute! These are covered in marzipan but I may try a glaze instead. Any ideas for the stem part that isn't marzipan? (note to self - add mini bundt cake pan to shopping list!)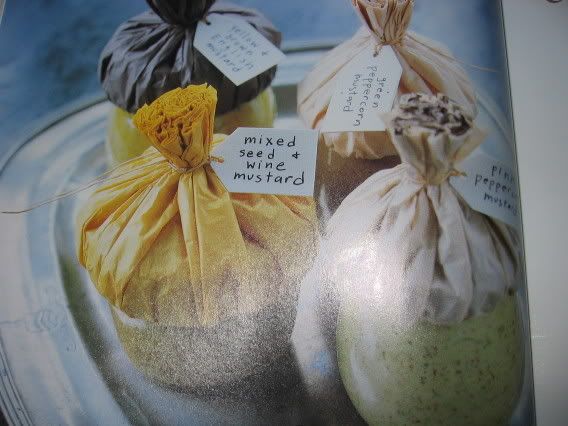 home made mustard with "onion tops" - I've never made mustard but it seems fairly easy and the tops do make them look so cute.
The book is just full of great ideas and there are a few I recognized from Martha's website. Check out the online good things
here
. Scroll to the bottom and choose Good Things from the different catagories od cooking, crafts, etc. Sorry for the crappy photos, it's a very glossy book. :)
xoxo bex