No, I didn't go to the thrift store. L said we could go and then conveniently forgot. ;) We did go to the mecca of cheap - Ikea. We got some furniture for L's office (believe me, it could have been cinder blocks and plywood and I would have been happy) and a little white desk for my sewing machine. Maybe I'll put that together tonight. I also hit the outlets with Stace and got a few Christmas gifts. Oh yes, I said Christmas. I need to start early to spread out the spending. Plus, when you see Ralph Lauren PJ pants with little skulls and crossbones on them, you grab them for your pirate obsessed future brother-in-law.
Speaking of Christmas, it's time to get crafting for the holidays. I like to make things and find thrifted vintage items as gifts for those people who are into that. I started knitting a wrap for my boss though I'm not sure if I'm loving it. I'll post a picture tomorrow and take a poll. I also want to make ornaments this year and need to start on that as well. I will probably make these
mitten clips
from Martha:
Very cute and very easy. They would make nice magnets or you can clip them on the tree or gift bags. Plus, there are lots of ways to use thrifted items to create them - fabric, felt, napkins, etc.
I also like these
Sculpey penguins
: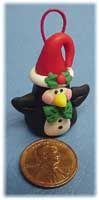 They are tiny so I will probably make mine a bit bigger. I made polymer clay snowmen 2 years ago and was very pleased with them.
Can you tell I'm ready for fall? I hope to thrift this coming weekend. Anyone get anything good recently?
cheers!
Bex