I wasn't sure where to post this but FREE STUFF seemed to be both thrifty and full of goodness to me. One cool thing about living in NYC is that many companies are based out of here. One is L'Oreal. You can sign up with them to be a product tester and they give you a big bag of free goodies and a pass to shop in their employee store which has all their products at 50% off the regular price. This is great for a serial hair colorer like myself.
Speaking of hair coloring (nice segue, huh?), that is what I tested today. I went in on my lunch break, colored my hair in their lab and they asked me a few questions. It was much better than coloring in my tiny bathroom for sure. They base the goody bag size off of the time you commit. Since I had to go in three times (1 patch test, 1 patch test result and the coloring) and I was the one doing the application, it was a good haul! I've gone in and just answered some questions and still received a great bag.
Today's Goodies: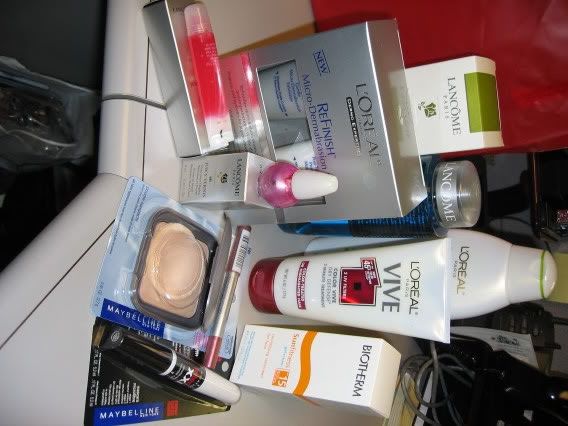 Biotherm Sunfitness Gel-cream for face
- retail $18 - SPF 15 Sunscreen
Lancome Tonique Douceur
- retail $21 (for 6.8 oz and I have the 13.5 oz) - alcohol-less toner
Lancome Juicy Tube
- retail $16.50 - in Berry Bold
Lancome Juicy Vernis nail polish
- retail $13.50 - in color 46
Lancome Aroma Tonic shower gel
- retail $24 - I got this once before and it's a favorite!
L'Oreal ReFinish Microdermabrasion kit
- retail $25 - I've been wanted to try this
L'Oreal Vive Fresh Shine 2 in 1 Shampoo
L'Oreal Color Vive Dry Defense - 3 minute leave in treatment
Maybelline Finish Matte pressed powder
- retail $6 - in medium beige (works for me)
Maybelline Intense XXL mascara
- retail $7 - in brownish black (I LOVE not too black mascara)
Maybelline Cool Effect Shadow/Liner - in sugar plum ice
Can a get a WOO HOO? If you live in the New York City Area and are interested in siging up with L'Oreal or the Matrix Salon (they do free hair color) e-mail me and I'll give you the 411.
Cheers!