On my short trip to Baltimore this weekend, Mom and I made a brief stop at the Thrift Store. Not much turned up but I did get a few things that will be handy in the kitchen: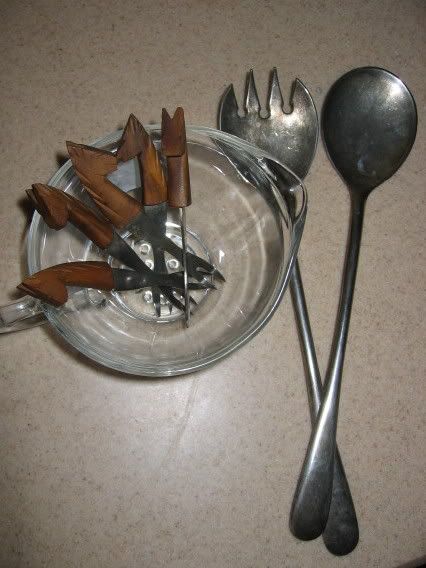 small glass creamer - 45 cents - excellent for serving salad dressing on the side. This is a terrible picture, you can't see the decorative knobby bottom.
hor'devour picks - 80 cents - wooden horse heads, so cute!
silver salad servers - 25 cents each - I love old silver and this is a nice set. I need to polish up all of my random silver pieces and post about them. I like the mis-matched utensil idea but look mostly for serving pieces. The thrift store we frequent has big buckets of utensils to dig through.
Also found a few Christmas items: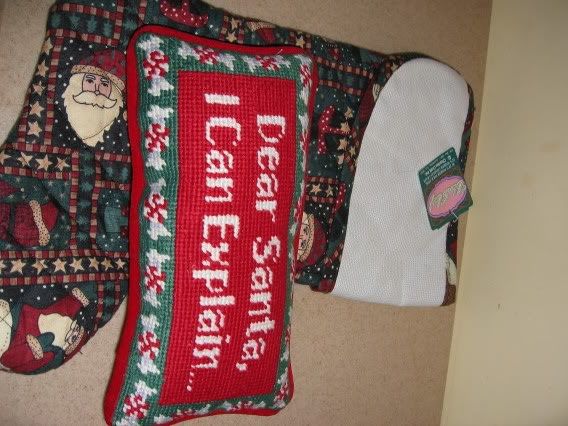 stitchable stocking - $2 - I plan to stitch Happy Holidays on this I think or maybe a name and then gift it . . . hmm . . .
mini Christmas pillow - $1.50 - This is now my third Christmas pillow (Mom found one) so I think I'm covered. Or at least my couch will be . . .
More to come from past thrifts . . .
cheers and good luck!
Bex