It hit me this morning that I wanted to share some shots of my Easter decor before my 3 day
work-less
weekend that I HAVE NO Easter decor up yet. I. KNOW. I have it planned out grandly in my head but it's still in the big pink bin marked Easter/V Day in the basement. I never promised to be timely.
I did receive a rather nice box of Easter Goodness from my Mom, though, so some things are scattered willy
nilly
about the house.
a sweet bunny guarding the booze on the wine cabinet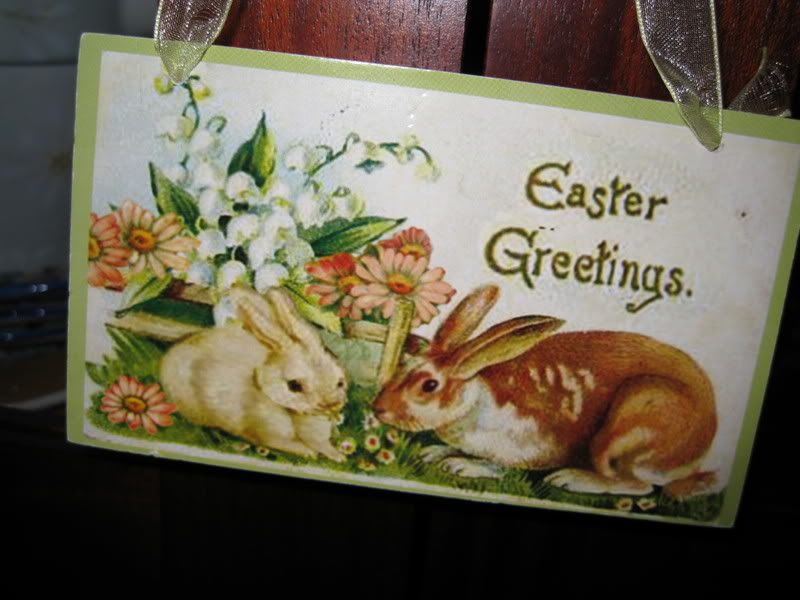 A
vintagey
sign hanging on the hutch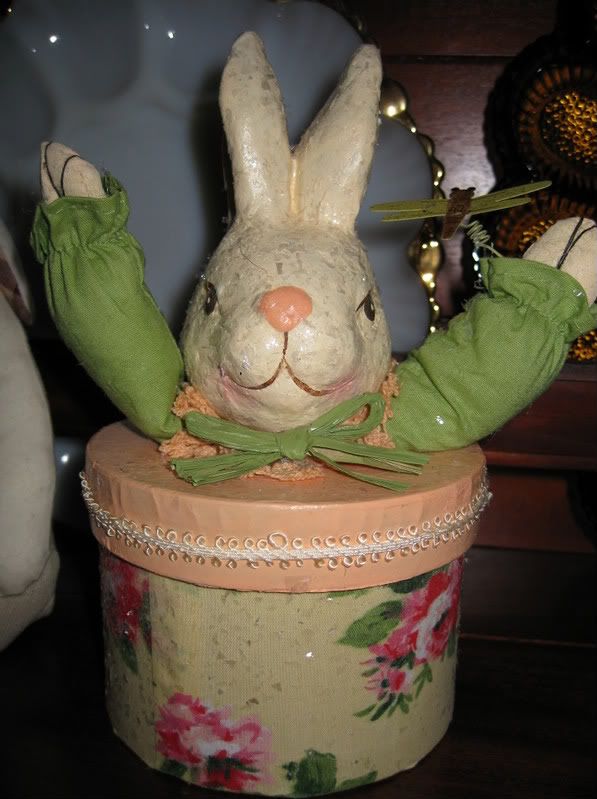 and my favorite of the Mom sent goodies, a bunny box. :) I'm very tempted to leave him out all year long.
Oh and of course I had to pick up another fabulous piece from
Jenny at Polka Dot Pixie
:
oh how I love my sweet
chickie
.
And today the mailman brought me one of these:
If you run over to
Andrea's
shop,
One Hundred Wishes
, she may have some left for you to stash away for next year. Or hell, leave it out as your May Day basket. I can't tell you how much I love the things Andrea stocks and she is FAST. I ordered this basket on Tuesday and I have it today in time for the holiday. I am thrilled to say the least. :) She also tucked in a few of the
Easter flashcards
as a freebie! Thanks! I still have two days to whip them into some decor, right? Oh and
she just added vintage pink streamers
to the shop! Darn, I would scooped some of them up quick!
So I'm set. I'll be decorating tomorrow, or Saturday. We'll see. Saturday is my birthday and I'm hoping for a day of leisure if I can manage it. Though I suppose I should get to that cleaning I've been fretting over . . .
Have a WONDERFUL holiday weekend my friends. I'll attempt to post from my home but don't hold your breath. I'm planning a lot of "nothing" for my three day weekend.
Buona

Pasqua

!
hugs,
Rebeca