So I was LAY-Z this weekend. I managed to do some laundry but most of my cleaning is still waiting to happen. Bah. Cleaning. I did, however, move the sewing machine back up to the craft room of doom so I could actually use the dining room table. But before I did I
snuck
in two quick projects.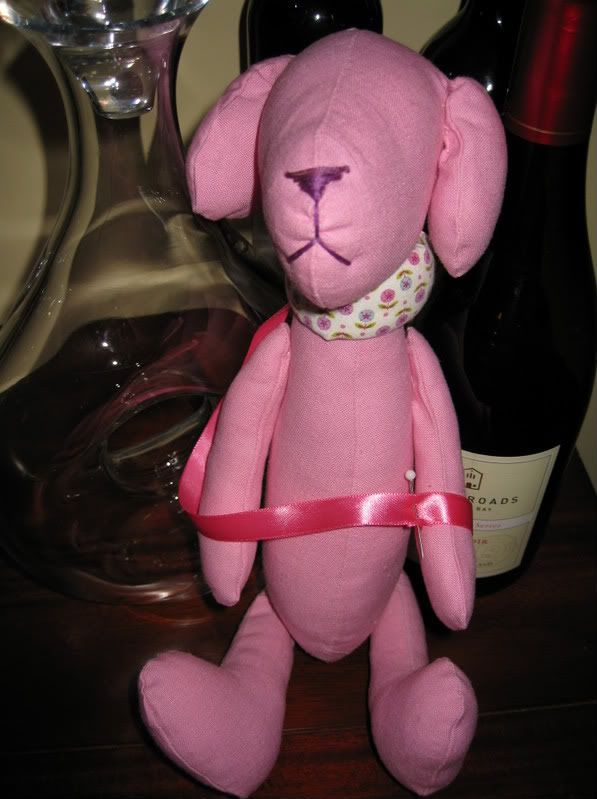 Another
Tone
Finnanger
stuffy from
Sew Pretty Home Style
. He was much harder to put together than
the bunnies
and I am doubtful to make another. For one thing, he won't sit up on his own. I am tempted to rip him open and stuff his butt with beans but we all know I'm much too lazy for that. His collar and leash look much cuter than the picture lets on and I need to work on his nose a bit and fix the threads. He also needs some button eyes and perhaps a
little
wool felt heart patch. Something to
snazz
him up a bit.
I also managed this bag:
Made from another pillowcase scrap from
Vallen
and a tiny bunny I had intended to stuff but looked much better as an applique. The Favorite Things twill tape ribbon was a Valentine gift from
my sister Mandi
and I heard
her

whispering

over at her blog
that she may do a giveaway and if memory serves she was thinking of parting with more of the fabulous
scrabooking
ribbon she
scored
at a store closing sale. Let's encourage her to do that, shall we? :)
So anyway, what's in the bag?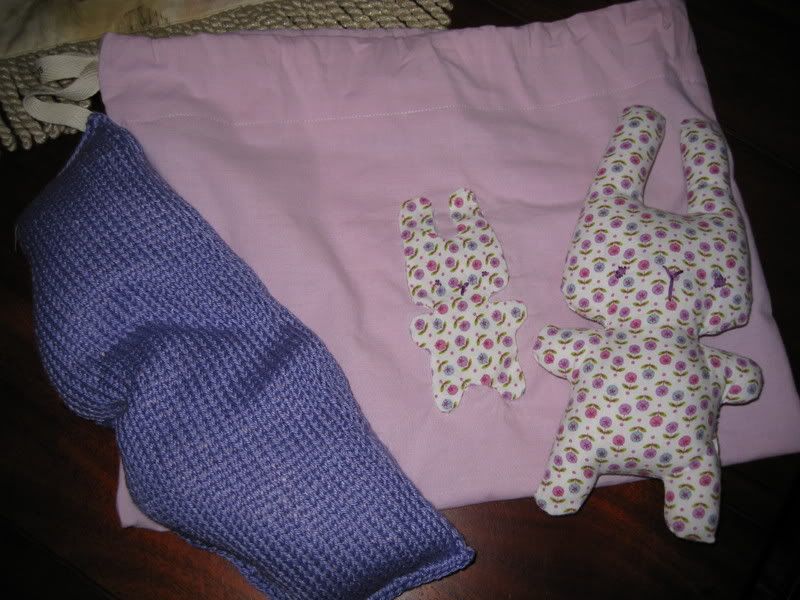 One
Crafty Carnival bunny
and my Le
Lux
eye pillow are
hippity
hopping their way to spread some Easter joy. It felt good to FINALLY finish a project and get it out the door. I have been feeling so behind forever now. I'm hoping to remedy that soon. :)
cheers
Rebecca