That would be the Easter bunny hopping away and I cannot BELIEVE how fast this year is going. Sigh. On New Years Eve I speculate what will be different/the same/new/whatever each month in the year to come and it's almost April and I don't feel like I've accomplished much. Sigh again.
Anyway, how was your Easter? Ours was nice albeit hectic as of course I couldn't seem to time my cooking to fit the guest arrival time. But it was better this year than most so that's a start. I made the traditional ham and tried a Martha recipe for scalloped potatoes with leeks and
Gruyere
. YUM. I'll definately be making them again. We ate Easter
tiramisu
and strawberry shortcake from
Veniero's
and my quiche and
broccoli
casserole (Mom's recipe) went over better with the kids than I had expected. Calling the quiche "scrambled egg pie" really helped. ;)
I was so crazy that I forgot to take pictures PRIOR to dinner. Nice. But I did snap a few.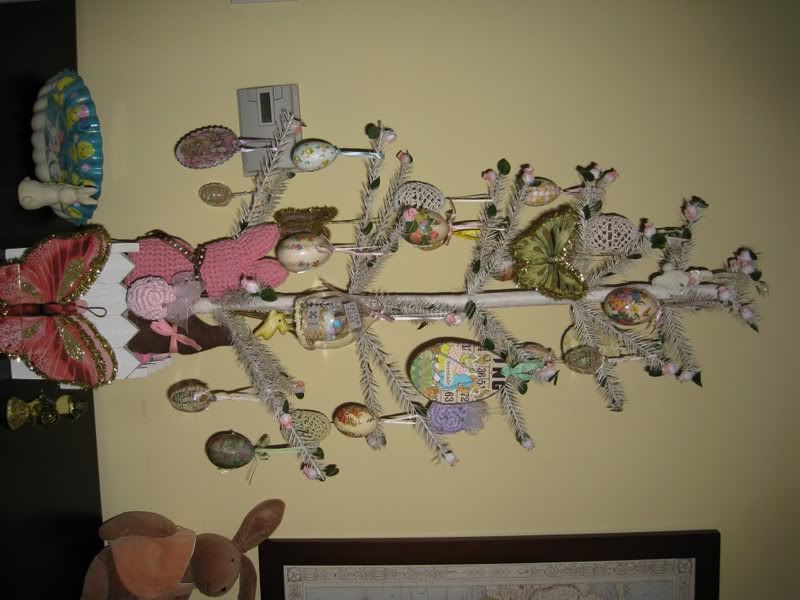 My lovely feather tree, a generous gift from
Sarah
, got a few Martha butterflies added this year plus some eggs my Mom sent last year that were a pleasant surprise when I opened the Easter bin.
Some lovely tulips from the grocery store. I wrapped the pots in fabric. Hopefully it will warm up soon so I can plant them in the yard though I'm considering a window box. However, that would mean pairing Luis up with power tools and letting him loose on the siding. Not sure that is such a grand idea.
And my favorite decoration . . .
This was my centerpiece. That's the lovely basket I bought from
One Hundred Wishes
filled with paper shreds (that were in a gift bag from my boss, how's that for reuse/recycle!) and some glittery eggs from the thrift store and Joann's. I really love how this looked! Want to see a close up?
Ahhh
. . . glittery goodness, no?
So now I'm off into
blogland
to see how all of your holidays were spent. I expect to find some goodness there, too.
cheers
Rebecca