So I've been shopping. I'm sure you're surprised. It's been my favorite sort of shopping, thrift, craft and hand made goodies. Let's start with the last, shall we?
You all know
Jenn
, right? She rules and I have said that here numerous times. I've been to
her Etsy Shop
a few times now.
My super fabulous new check book cover. It makes balancing my checking account so much more chic.
And my wool felt embroidered snow man ornaments! I love these. You should see the detail! Those snowflakes are FRENCH KNOTS. Yeah, I stink at those. Maybe Jenn will show me her secret. :) I bought them with the intention of gifting them but we'll see. I may have to keep them all. Hope to see more ornaments from Jenn!
In crafty shopping I've been spending some dough over at
One Hundred Wishes
. If you haven't visited Andrea's shop or
her blog
please do so. Her photos are lovely, her creations divine and her prices fair!
This is my first order. I had to have those blue wish tickets and I'm in love with all the German trimmings she carries. I got the blue foil stars above and placed a second order for gold and silver crowns and gold umbrellas when she restocked. She wasn't kidding when she said that glue stick smelled of yummy vanilla, I plan to put it to the test this weekend. I'm rather particular about adhesives. And she always sticks in a yummy lolly. Who can beat that??
I'll share some of my thrifting goodies over the next few days. I haven't had any extraordinary finds but some good supplies and a multitude of picture frames. Oh and some to die for vintage trims that I know you'll love. If there were 48 hours in the day instead of 24 I would open my own online craft supply shop.
And last but not least, I have joined a swap put on by
Jenny at The Polka Dot Pixie
. It's a vintage children's book and homemade bookmark swap. Easy and fun I think.
Head over and sign up
and let me know if you do!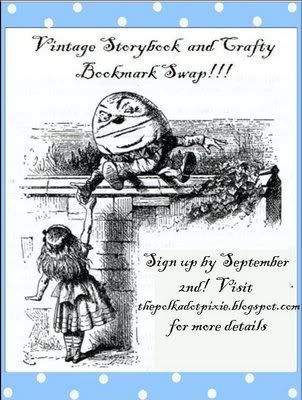 Thank you all again for the kind words about my Grandpa. You guys are the best. Really.
xoxoxo
Rebecca