First, I would like to say thank you to everyone who left sweet comments about the loss of my Grandfather. I really appreciate it and feel so fortunate to have you all as friends.
So I've been crocheting. I shunned it for so long because most of the projects I saw were very outdated and just blah. Now there are so many new and fun patterns that I can't seem to put down my hook! I just got two new books that have great projects.
Crochet for Baby
is perfect for when you need a quick baby gift and
MaryJane's

Stitching Room
is a beautiful book with fabulous crochet projects, quilted
accessories
and even instructions on tatting. (as if I need another hobby!) I'll surely be sharing some projects from both soon.
I wanted to use up some green cotton I had and decided to make myself a bag. I just sort of made it up as I went along and am thrilled with the end result.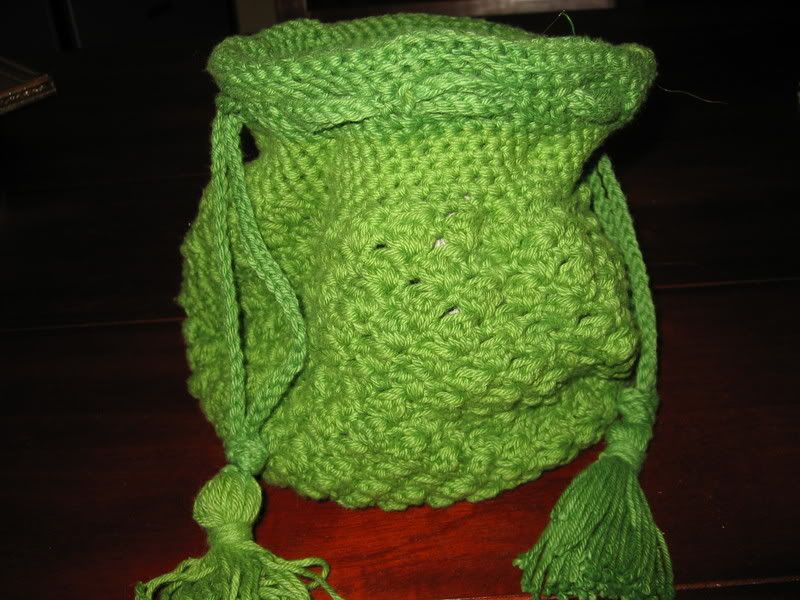 I call it the Kelly Bag because it's green. I'm terribly inventive, aren't I? In my next bag I do think I'll move the draw strings down a bit so there is more of a "lip" on top but other than that I do really like it. The cotton gives it a nice weight and the bobble pattern adds the right amount of texture. And how about those
tassels
?
What is it about
tassels
that just makes things all the cuter? You will notice in the picture above a mistake I made (other than my mediocre
tassel
making.) I ran out of yarn half way through and was lucky to find more on
EBay
. Of course it was a different dye lot and you can really tell the difference. It's not the camera, the top of the bag and one of the tassels is darker. But whatever, it's my bag and I like it anyway. Want to see the best part?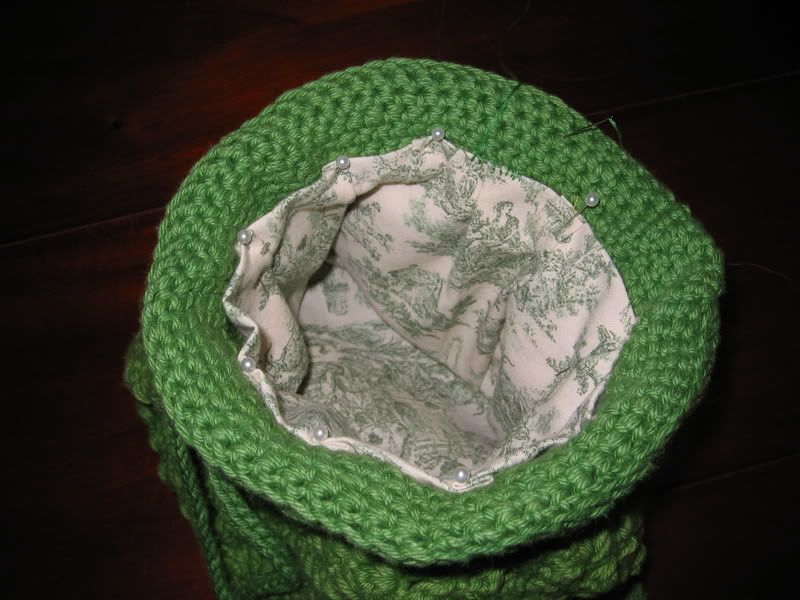 Green
toile
lining! This is before I sewed it in, you can see the pins and where I started to stitch it in green thread. I changed to white as I didn't like the contrast. I was pretty impressed that I was able to sew a round bottom for this lining and stitch it in with pleats so it
expanded
with the bottom of the bag. I think I sprained my elbow patting myself on the back.
So aside from the color issue (which honestly isn't as
noticeable
as it is in the photos) this is one darn cute bag! I think I'll start another one and actually write down the pattern as I go so I can share with those who are interested.
Cheers
Rebecca