How excited am I that the new thrift store I visited this weekend is actually a GOOD one? Oh . . . very excited. I'd been hearing radio spots for Unique Thrift Store for a few weeks. It wasn't too far away and they were having 50% off of everything at their grand opening sale. Of course I was skeptical of any thrift store that advertises. Plus it's attached to one of those dealer type flea markets that just isn't my thing. But since I was headed out anyway and it wasn't too far our of the way I decided to check it out. I'm so glad I did! It's huge and priced like a regular thrift store and not an antique store. It's well organized and has dressing rooms which is very helpful when purchasing clothes. My total bill was $22. What did I find?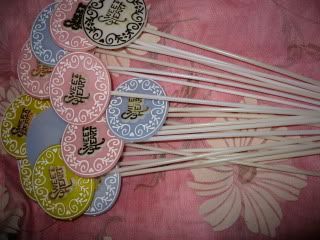 While there wasn't too much vintage I was very happy to find these sweet cake toppers. Most likely these will end up on Etsy but I'll keep a few for myself.
This is a nice linen table cloth that has both cross stitch and a crocheted border.
I also found the nice apron in the back, two little black bags and a handful of DMC Perle Cotton.
These are just some of the misc. things I picked up. Not shown are two puzzles, another vintage corsk screw and some spools of ribbon.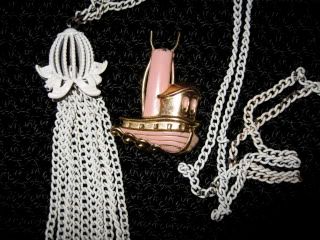 Two of my favorite finds were found last minute in a basket of jewelry right at the register. Regularly priced at 69 cents each, I was happy to snag this vintage Monet tassle necklace and a ridiculously cute pink tug boat barrette.
Will I be going back? Oh you betcha. This store is much closer than the one I usually go to and the prices, even without the 50% off, are better.
Please take moment to check out my latest article
HERE
. Rebecca Henry at Pink Pearl Studio shares instructions on making an adorable vintage style Halloween Banner. If you have Halloween crafts to share, please drop me a line! I'd love to feature them.
cheers ~ RR