So I seriously haven't been to the Thrift Store in like 6 weeks. I. Know. Vacation, new job, cleaning (blech) all get in the way and disrupt my thrifting schedule. I've been trying to get to the
Elephant's Trunk Flea
for a few weekends now with no luck. I'm going to try (again) to go this Sunday if I can get everything else I need to do squared away first, of course.
This past Sunday I got up with the chickens and got a jump on my way over due housework. So by 10:30 I didn't feel too guilty about jumping in the car and heading out. While there was only one real stellar find, I am happy with my goods.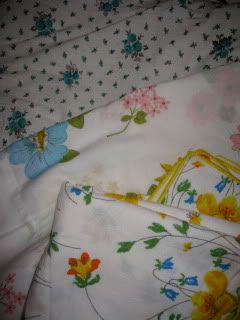 A small collection of vintage fabric and napkins. I love that blue rose print. There is a good amount and I already have an idea for it. The floral fabric in the center is a pair of pillow cases and those are TWELVE Vera napkins on the bottom. Cute, I know, but stellar? Not quite.
Some inexpensive scraps of new fabric. Sunday is half price on 4 colors so almost everything I picked up was 50% off. Still not stellar though.
I love to rescue handmade items, particularly cute baby blankets. I have to say, I love this color combo and it might be close to being my favorite find of the day but not number one . . .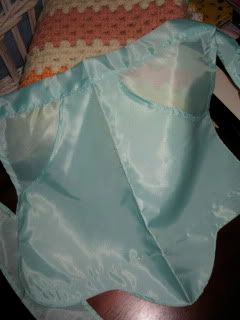 Little aqua apron . . . adorable! I actually scored two of these and couldn't leave them behind. A future give away perhaps? Should they be decorated?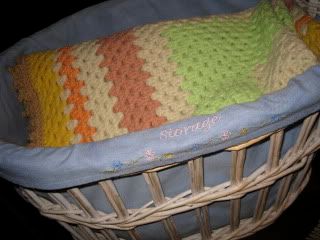 I love this shabby basket. The liner is a bit dirty and not very cute but I plan to use it as a pattern to make a new liner. I'm thinking of using that blue rose fabric. Then I'll pile up my vintage baby blankets in there.
And while I know you're expecting something like vintage table cloths or Pyrex so my stellar find MAY surprise you: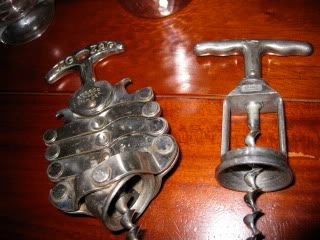 The corkscrew on the left is a vintage French Zig Zag. I believe it was made in 1953 and I found it in a bag for $1. I knew it was neat and I've been picking up vintage corkscrews here and there (the one on the right is a vintage Swiss design) but when I did some Googling on the Zig Zag it seems they are quite popular! One sold on Sunday on Ebay for $200. So a $1 true antique find? Stellar.
Stop by the Examiner for my latest article on
making Halloween Cracker Favors
. And remember to leave a comment
HERE
to win a little pack of Halloween goodies including Martha Stewart and K & Company items.