I was so excited to come home to a box waiting for me yesterday. My crown from
Samantha
had arrived!
Isn't it gorgeous? Made from chicken wire, ribbon, vintage images and flowers. I've always wanted to make a wire crown but haven't tried it yet. Now I have my very own! I love how it looks on the pumpkin. I will get a shot of me wearing it as soon as I get rid of the cold I'm nursing, I'm looking rather wretched lately, lol.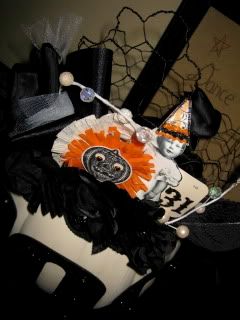 I love the little party girl there on the top.
The vintage pumpkin and October 31st are adorable, too. I requested a "sweet" crown and she got it perfect!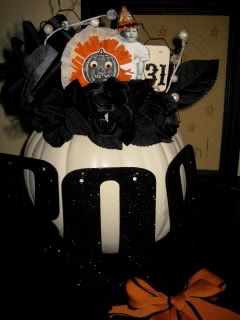 Samantha also included a cute glittery BOO banner. There was a glittery owl, too, but some how he didn't make it into the photo! I think he's off there to the left. lol
Thank you so much, Samanatha! I love it. My craft room is filled with creations from all the talented ladies I've met over the years and the crown will have a place of honor. :)
I loved this swap so much I'm considering hosting my own crown swap. Maybe fall themed? Or holiday? For some reason Ice Princess is screaming my name. :) Anyone interested?
xoxoxo ~ Rebecca