As promised, I went through a bunch of stuff in the craft room of doom and pulled out some Halloween goodies to give away.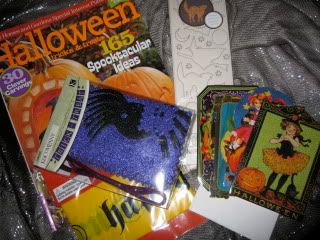 Up for grabs is a Halloween Tricks and Treats magazine (from last year but still full of fun!), a K & Company sparkly "Happy Halloween" banner (the picture looks dark blue to me but it's really a royal purple. Some fun Halloween "crime scene" tape for decorating, Martha Stewart glitter stickers (they are sticky on both sides and you put glitter on top and they look very cute!) and a collection of Halloween greeting cards (all blank inside) with images of vintage ephemera on the front.
All you have to do is a leave a comment and tell me what you're working on right now. I love to hear everyone's projects (craft, decorating, organizing, you name it!) and get inspired! If you've blogged about it include a link so we can all check it out. I'll pick a winner on Thursday and get it out in the mail by Saturday so you'll have it to enjoy for the holiday.