When Sarah at
My So Called Junky Life
announced a crown swap you KNOW I was right on it. I LOVE making crowns. In fact, I think I'll make myself a crown this weekend now that I've completed my crown for the swap. My partner is Samantha, one of the bloggers at
Altered Junkies
. I can't wait to see what she creates for me! My crown arrived to Samantha earlier this week and I've been dying to share so here we go . . .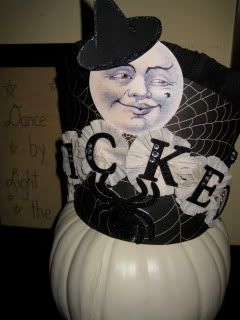 I used black poster board (which is how I start all of my paper crowns) and cut out my crown shape.
I cut out grave stones from the
Cricut Cartridge October 31st
and glittered them with fine Martha Stewart glitter.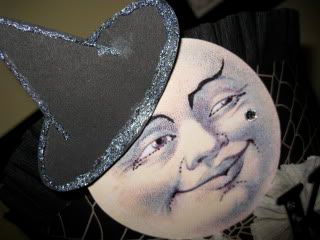 The moon graphic is from the ever fabulous
Graphics Fairy
and the sparkly letters are from Michaels. Do you know that I have an entire DRAWER of chip board glittered letters? Seriously.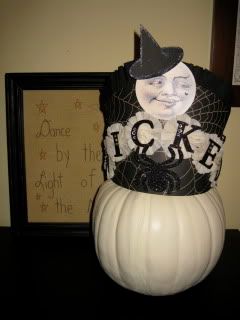 I love how it turned out. I think when I make one for myself I'll call it "Scream Queen" what do you think? Now that the "Wicked" crown is with it's new owner that white pumpkin looks a bit lonely.
Click
here
to see my album of crowns at Flickr!
I've also been busy at the Examiner and think I've written one of my favorite articles to date! I was able to interview Marlo from Contain Ya Crafts and it was a great experience! She is fun and interesting and really KNOWS what crafters are looking for in their storage needs. Please click
HERE
to read the interview. I also posted some fabulous Halloween crafts from Jen at Lipstick and Laundry. Check out the article
HERE
and make sure to stop by to visit her. She makes the most beautiful things from everyday materials! Thank you so much for your support with the Examiner. I'm enjoying finding new inspiration and meeting new people and hope you're enjoying them as well!
cheers ~ R