. . . from Sublime Stitching! I picked up Sublime Stitching by Jenny Hart when I was sitting around on my butt watching my ankle heal. I kept meaning to get to making some lovely stitched projects but it never worked out. Finally when I got home I grabbed the book and some various items and ironed on some of my favorite patterns. I LOVE DOING EMBROIDERY. Who knew? I want to stop this post right now and go do some more. I love picking out the colors and following the lines. It's fun. You should try it. I love that you can use the patterns over and over again.
To add to my pattern collection I also picked up the Sublime Stitching Craft Pad which contains even more cute embroidery designs. This is where I found the vintage looking horse design I stitched on the apron I made for Aimee-Suzanne for the Vintage Cowgirl Swap.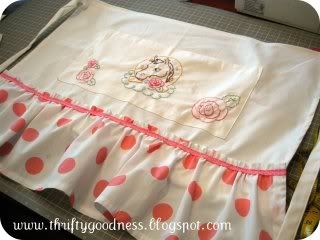 I LOVE the way this turn out. So much so that I almost kept it for my greedy little self. Ahem. I sent it to her and she liked it. :)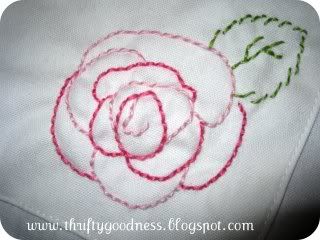 I really enjoyed making the apron and now I'll have to make one for myself. I'll post about the entire package I sent her with info on how to make this apron. Perhaps when you try it you won't have to take it from a full apron to a half apron because you botched the top. Hmm.
I also added some fruit to one of my Fiesta Towels. I almost ditched this project because I didn't love the edging on there. The thread is heavy and it's kind of stiff but the embroidery sold me on it. Now I'll have to make it a mate. Maybe with some maracas on it?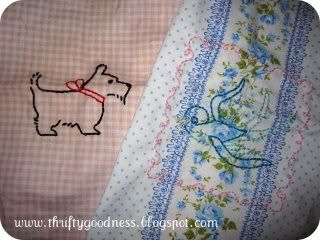 Since I still felt like stitching I decided just to iron some patterns onto fabric scraps and go at it. Now what shall I make them into? Pillows?? Anyone have any more interesting ideas? The scraps aren't too big but I have to use them for something. I really want to turn the bird one into a pic cushion but seriously, how many pin cushions does one girl need?
Today I think I'll break out a set of plain linen napkins and make them festive. This really is an addictive craft. Jenny has a few other books available like Embroidered Effects which is on my wish list. You can also visit
her website
where she sells individual embroidery sheets, kits and supplies. I promise you will be stitching up everything that isn't nailed down.
Ciao ~ Rebecca
PS - take a moment to check out my latest article
HERE
on finding craft supplies in the thrift stores. I know you guys know all these secrets but I appreciate the readership! I'm trying for the position of National Craft Examiner and need to pump up my subscribers and comments. :)