Around here we like our winners shaken, not stirred . . .
drum roll please . . .
Red Rhiannon! Congrats! Please send me an
email
with your address.
Luis and I headed out to watch the World Cup yesterday and ended up staying out all day. After watching the USA/Ghana match at Hooters (of all places!) we headed to the Nautical Mile in Freeport, Long Island.
It's a strip of cute restaurants, hoppin' tiki bars and adorable little shops. We sat at a bar and had a drink and then had a nice dinner in a pretty fancy restaurant. I had oysters, crab and wine. Oh la la!
We stopped in these cute little shops where I picked up a gift for my Dad and some cute little nautical Christmas ornaments.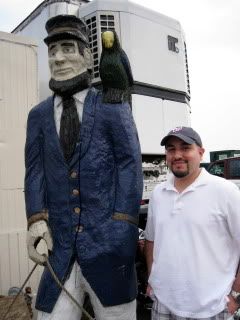 It was a fun spontaneous adventure and made me feel like I was on vacation. :) I think I'll go to
the beach
this week, too.
Happy summer! ~ rr