Okay, so I've been to like 4 Big Lots in the last week and a half. Seriously. Thrill of the hunt, no? When I stopped by last week I hit the mother load of quality Martha Stewart Crafts and Making Memories supplies:
At the time I posted this the photo was upside down even though I corrected it 3 times. Hopefully it will right itself. :) Everything you see here was $1 each. I picked up some clear stamps for my Mom (who has that type of stamping set), some paper, glue sticks, stickers, tissue paper and scrapbooking supplies.My favorites, of course, are the pressed paper pine cone boxes.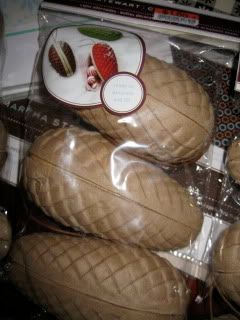 I coveted these at Christmas but couldn't bring myself to pay the $15 for them. I plan to use these as favors for my annual Christmas Craft party.
Coming in a close second was this ribbon from Making memories. It's from a collection called Chloe's Garden and I have a few other scrap booking embellishments in this line like really cute butterfly paper clips. But the ribbon! Love.
I also snagged three packs of these sweet vintage inspired alphabet cards. Really cute! Not sure what I'll do with them so I'm sending one pack to a friend and putting the other in a give away.
Oh yes, it's time. Since I have way more than I need I gathered up a few things to share: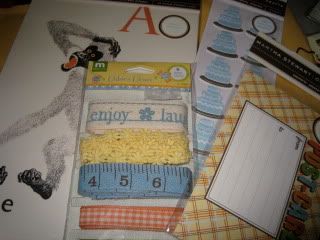 So here we have the set of cards, a package of the ribbon, some pretty blue cake stickers and some post cards found at a different location. You want it? Just leave a comment here for an entry. If you visit my latest Examiner article by clicking
HERE
and come back and tell me what craft I shared you'll get a second entry!
Due to the weight of this package I can take US participants only. You have one week to sign up, through next Saturday. I'll announce the winner on Sunday June 27th.
Cheers!
Rebecca