When Leigh Ann suggested Vintage Cowgirl as the theme of our next swap at Sweet Goodness I wasn't sure if it was going to be my cup of tea or not. But as usual I'm very glad I joined in.
My partner was Aimee-Suzanne who I knew a little bit from Shara's EGG-stra special swap. I loved the cute eggs she made filled with vintage goodies and couldn't wait to see what she came up with the Cowgirl swap.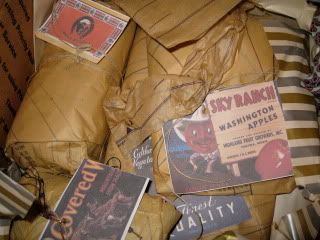 Look at the goodies! Don't you love how she wrapped everything in sewing patterns? She wrote a whole story about a cowgirl named Eliza and her souvenirs from travels through the Wild West.
First up is Eliza's leather satchel: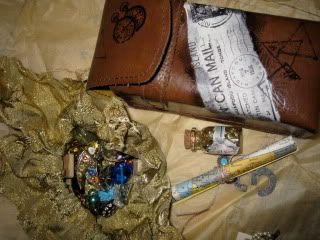 This is where she carries her map, gold nuggets (gold mica flakes!) and treasures!
Look at the goodies! All sorts of rhinestones, vintage earrings, beads AND one of Aimee-Suzanne's hand made lamp work beads!
Isn't it gorgeous? I think I'll wear it on a chain. And speaking of chains: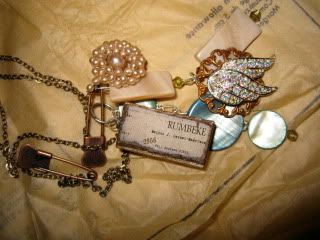 Look at the cool necklace she made me!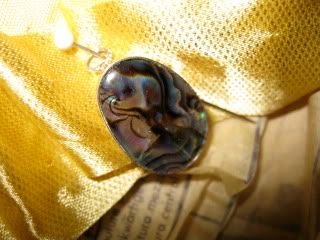 And this little charm is one of my favorite pieces!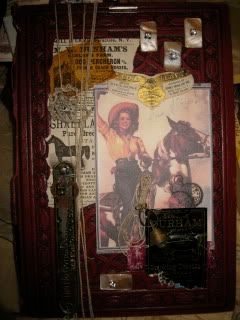 She also made me this really neat collage.
And this super cute banner!
She also tucked in the best package of papers and ephemera that I can't wait to work with.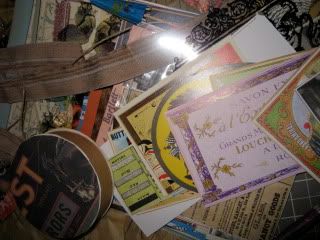 So thank you Aimee-Suzanne for taking me on the best Wild West adventure. :)
I'll post what I sent for my part of the swap soon. Giddy up!