Meet Bon-Bon Bunny.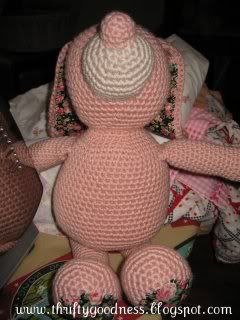 She is very sad because she is unfinished.
She is made of gorgeous organic cotton in the most lovely shabby rose shade.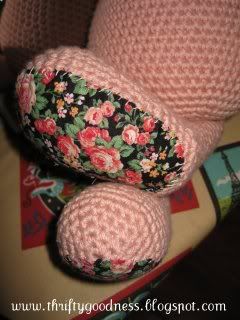 She has pretty chintz style fabric in her ears and on her big bunny feet.
Her problem? Should she also have a big circle of fabric on her belly? Little circles on her paws? Little circles for cheeks? We can't decide so we need your help.
I think she will have button eyes, pink buttons I think. I usually like to make my toys baby friendly and skip the buttons but I think they are the best choice for Bon-Bon.
Now what do you think? Fabric belly? Paws? Cheeks? Button eyes? Embroidered eyes? Fabric circles with button eyes on top? I just can't decide. So far she is one of my favorite creations so I want her to turn out beautifully. Thoughts? She is patiently awaiting your feedback on the sewing table (read dining room table.)
Got a moment? Need a quick project? Please see my latest article at the Examiner
HERE
on some fun paper and fabric flower projects. Don't forget to
send me pictures
if you make your own paper flowers and I'll feature them in a future article! I hope you'll join in. I'll be making crepe paper roses myself.