So . . . I don't sew. Well, rarely. Mostly it's because I hate ironing. Oh and the way the craft room is set it up it's difficult to cut fabric. Most of my "major" sewing has been done when I drag the machine down the the dining room table. But since I can't stand the clutter I can't stand to leave it there. Mental, I know.
But yesterday I wanted to make something and I wanted to make something different. No crochet, no cross stitch, no scrapbooking . . . it took me forever to get inspired but while digging through my fabric stash I found this:
I found the skirt at the thrift near my Mom's back in December I think. The zipper was broken and it's a little too Little House on the Prairie for me but I thought it was cute and half price and in the cart it went. Can you guess what I intend to turn it into? I started that project but it's not quite finished yet. I cut off the bottom ruffle which inspired me in a different direction.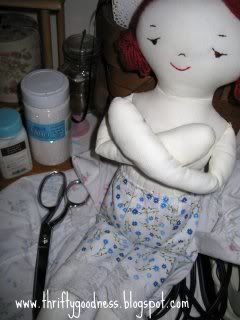 Charlotte Ann
got some bloomers! Poor dear has been sitting naked in the craft room for, oh . . . a year? More?
They were so simple to make and too cute, I think. Now she needs an undershirt, no? Well that's a project for another day, lol.
While putting the left over fabric away I found a small scrap of strawberry fabric. Zing! Inspiration strikes again!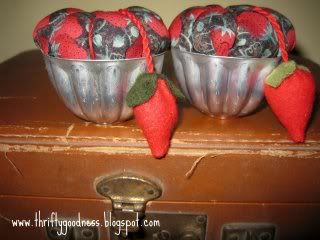 Ouch! Wow, I hurt my arm patting myself on the back. ;) Aren't they darling! I love them. Isn't it fabulous when something you picture in your head actually works out?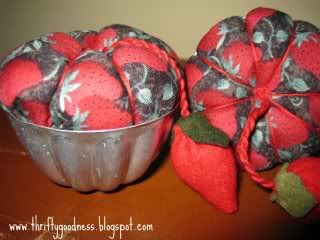 I found a big stack of metal tins in the kitchen cabinet and knew I wasn't about to bake tiny cakes in them so I stuck them in the craft room just waiting for that inspirational zinger. Want one? I put one in the shop
here
. :)
So you see? Sometimes I sew. And sometimes, it turns out okay.
I put up a new article on the Examiner yesterday. It's about easy decor for Cinco de Mayo, which is now dated, but if you'd like to check it out (please do!) just click
here
. :)
ciao ~ rr
PS - Craft Challenge #3 to be posted on Sunday! Sign ups will be limited to check in quickly as I hope this one will fill up. :)