So I went out on my own this week. This is a big deal since I've almost been afraid to do it for fear of my ankle flaring up or some such mishap. I braved the subway on Tuesday and drove for the first time in four months yesterday. Where did I go with my new found courage? To the thrift store, naturally. :)
Now on to the finds:
The yarn gods smiled on me again. Most of this was in a bag for $3.00 and I could only see that it was cotton so I tossed it on the cart.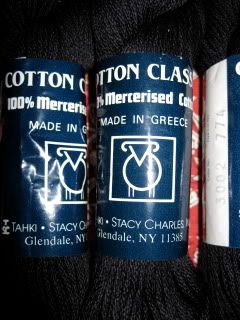 Tahki Stacy Charles
Cotton Classic yarn
! Seven skeins of black and one of a funky tweed. These are about $6.50 each and too rich for my blood so I'm fairly happy with this find. I also snagged a skein of
Cascade Rustic
for 99 cents. No clue what I'll make with just this little bit of yarn but what a fun challenge!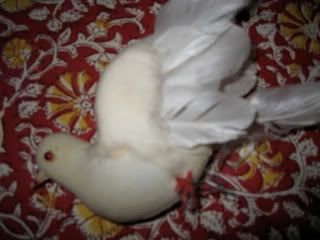 I also found a whole bag of these cotton spun doves. I'll probably keep a few but plan to put the rest in
the shop
. I mean really, what would I do with like 12 of these things?? :)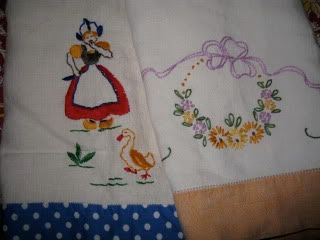 One of my favorite finds of the day are these two vintage tea towels. I hardly ever find any worthy linens at the thrift anymore and that one with the polka dots and the Dutch girl just makes me squeal!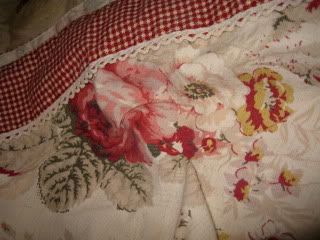 And last but not least, a round table cloth in my very favorite Waverly Garden Rose pattern for only $4.00! I snatch up everything I can find in this pattern. It used to be readily available at Target but was discontinued some time ago. You can find items on Ebay but the prices are
much too high for me
!
So not a bad trip, eh? I didn't mention the big roll of ribbon and several books I scored, too.
So I have 5 takers in
Craft Challenge #3
and still have some cards left if you'd like to get in on it. Leave me a comment here or on the original post and make sure I have your email address so I can contact you about sending out the card. For those of you already signed up, I'll drop the cards in the mail tomorrow!
Also please take a moment to read my article on the
Lion Brand Yarn Studio
and don't forget to flip through the slide show at the bottom for a peek inside. It really is a fabulous store that I'll be visiting often. I appreciate your taking the time to support
my new Examiner column
!
Fondly ~ Rebecca