As you know, I LOVE to make toys. Especially crocheted animals. I can make up my own patterns and it's fun trying to figure out how to make the right ears or nose or tail. Most of my creatures are made for my friend Dana's sweet little Charlie so I wanted to make him something extra special for his first birthday.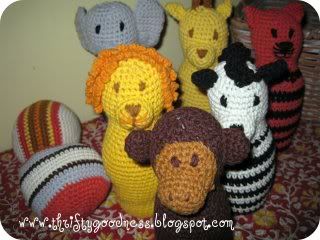 Jungle bowling set! This is my own made up pattern and it was so much fun making each pin look like a different jungle animal.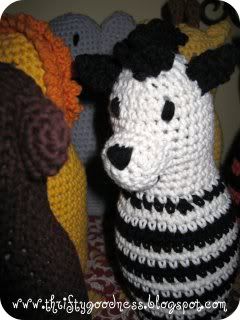 I think the zebra is my favorite. I love his little mohawk!
Or perhaps the giraffe, he has cute little spots. :)
I had to devise a way to make sure the pins would stand up so I made a "tent" in the bottom of each one to give them some extra balance. Now I want to make Bunny Bowling, Barnyard Bowling . . . :)
I hate the way the camera flash makes there stuffing show through, ugh. I need some photography lessons and some patience. :) I hope Charlie enjoys his bowling set. Next I'll share the banner I made for him. It came out really well, if I do say so myself. :)
Oh and coming up . . . a giveaway AND a new craft challenge. Until then . . .
xoxox ~ rr
PS - winner of my Examiner article Goodness . . . . drum roll . . . comment #7! Em . . . I'll be emailing you! Thanks!