Why can't I get enough of pin cushions?? Seriously, I was cleaning up my craft room this weekend and was trying to mangle my giant
chenille
bed spread into a smaller spot and realized that I really needed to just use it because it's way to big. So what did I make? You guessed it . . . pin cushions!
I
made
one of these as a custom order before and loved the combo. I believe I have one more of these blue willow cups hiding somewhere in the stash and will probably make a second one. This a "normal" sized tea cup and will probably end up in
my shop
soon. I have big plans to plough through a bit more of my excess supplies and whip up some Goodness just in time for the holidays.
While I love the blue willow cushion, I have to say that this is my favorite . . .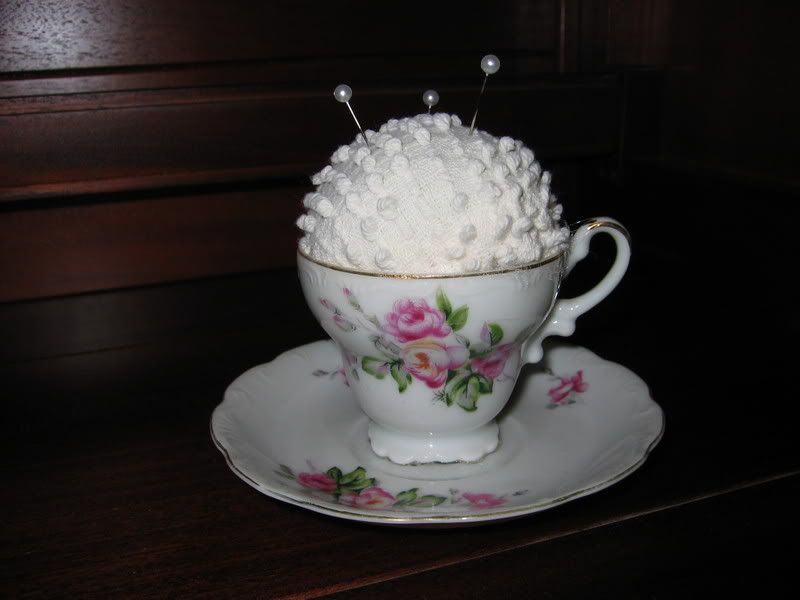 Isn't it sweet? It just came our right, know what I mean? This is a petite tea cup,
demitasse
I believe is the correct word. I actually made three of these. The cup is glued to the base so you can store small scissors, buttons, etc. on the saucer. I will probably keep one of these for myself, gift one and put the third in the shop. Such a simple idea but oh so cute!
I have other shop plans, more
tea cup pot holders
are in the works and I have grand plans for ornaments this season, too.
***********************
Big news over at
Sweet Goodness Swaps
today!!
***********************
Cheers
Rebecca