I ask that as a question because I spent more in the thrift stores this weekend than I would normally. Is that thrifty? Am
I
thrifty? Am I a collector? I don't know and as you can probably tell I am feeling a bit guilty for my "thrifty" splurge. I am happy with my purchases and for the most part I don't shop much in general. I do know that once I get out of New York C
ity
to a place where it is easier to be thrifty my ways will improve.
So what did I get?? As there is a lot I will share it over a few posts so as not to overload your senses. ;) So how about some miscellaneous stuff today?
I love
Madeline,
isn't she sweet? And only $2 with the tags still on her. She was a bit dusty but I cleaned her up and then put her in the craft room where the dogs couldn't get her. :) The small bird picture is a
Fiddlestix
print and I'm already quite fond of it. I was also lucky to find a few little books, some
doilies
and an Irish linen tea towel. The white scarf is a
souvenir
from New Zealand and is a very luxurious silk.
And as you know, I can't get out of a thrift store with out some sort of dishes . . . . the oyster plate will be nice in my collection (I know have four which is officially more than a "few" and thus is now a collection.)
Vintage
Pyrex is hard to pass up especially casseroles with lids and that fun snowflake pattern. Both purchased for $3 a piece. The tea cup will become yet another pin cushion and those
Noritake
snack sets might be my new favorite thing.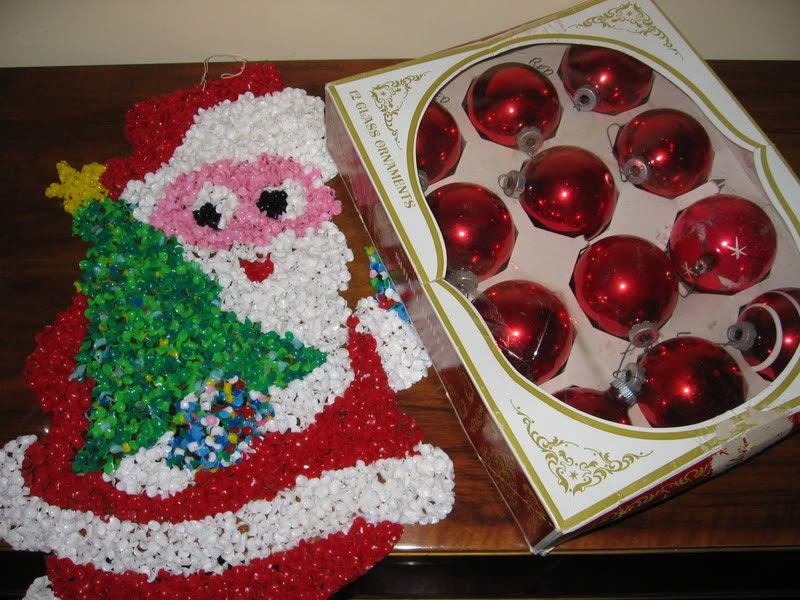 And some Christmas things as the thrifts seem to have piles of stuff all of a sudden. The ornaments are Shiny
Brites
, it says it on the box and on most of the balls, and were a bargain at 99 cents. The melted plastic
Santa
is not really my thing but I couldn't leave him there as he too was only 99 cents. I figure I'll find him a good home eventually.
Tomorrow I'll share what the chunk of my over spending was at thrift and show off a few collections that seem to have sprung up in my house lately.
***********************************
Tomorrow is the last day to sign up for the
Holiday Sister Swap
at
Sweet Goodness
. We have a few more spaces and I do think this will be a fun one. We have some of our veteran swappers but also some "new to us" swappers who have come on
recommendation
or have shown to be great potential swap partners through their
Etsy
and
Ebay
feedback. This is a great opportunity to make a new crafty friend!
ciao~
R