Hello! I hope everyone had a wonderful Labor Day weekend. Luis and didn't travel as we usually do so I took advantage of the time to do some much needed house cleaning and run some errands. While I didn't manage to get the curtain rods I went out for I did happen to squeeze in some
thrifting
. Are you surprised? :) So hold onto your hats, here's the goodness:
You know I can't resist clear glass ware. What is with that anyway? I was excited to find the big jar with the flip top lid. It says "product of Italy on top" and was probably a big jar of olives or something. :) And I just adore the art deco candy dish and I'll tell you what, I love those clear glass coasters. I have used them already a lot and no drink sweat to wreck my fancy (read: Ikea) furniture. The red polka dots are napkins and the green patterned is a big piece of fabric. There is about 4 yards of it and it has a name along the
selvage
but I can't read it it other than the fact that it's Du
Pont
Color stay or something. I did wash it and it looks nice. That's a yellow lotus bowl under there so now I have 4 in all different colors. This one is a bit larger than my others but I love how they all look together. The book set in the back are from 1968 and very sweet. I've been lucky with the neat old children's books lately. Since I'm doing a swap that may include some, I don't want to share too much and ruin the surprise for my partner. :)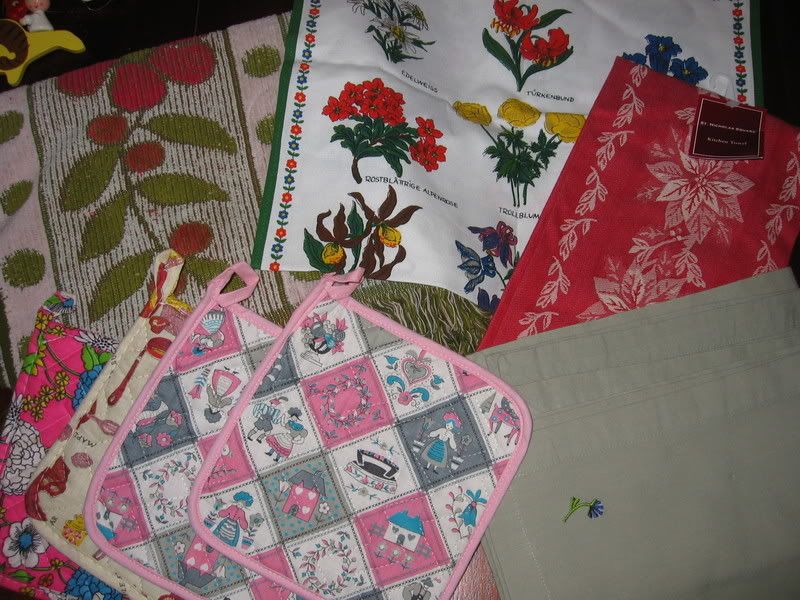 I've been lucky in linens lately, particularly potholders. There is an apple one in the top picture and you see four of them here. How sweet are those pink and aqua ones with the little people on them?? Also found a few tea towels and some nice napkins as well. I've been using more and more real napkins lately. Even Luis knows to grab them for dinner now instead of paper towels. :)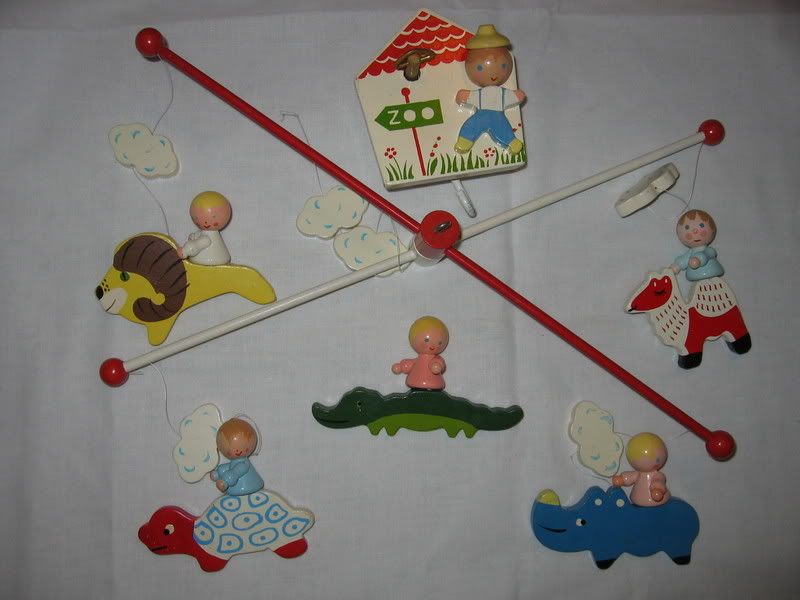 And how about this sweet wooden mobile? I found it in a bag for $2. The music box still works! The baby on the alligator is the only one not still attached so I need to figure how to get the string back in and it will be all set. Not sure what I will do with it but I couldn't leave it there for $2, could I???
And last but least, what I consider a very lucky find. I was on my way home on Saturday and thought I'd swing by the Savers. It's been pretty blah lately and their prices are getting higher. I almost didn't go but I'm glad I did. After a sweep of the entire place I found nothing. And I can almost ALWAYS talk myself into something. But then I remembered I was looking for a rug to go by the basement door and headed back to linens to look on top of one of the racks where I've seen rugs stacked before. And what did I find hidden under a pile of crappy old rag rugs?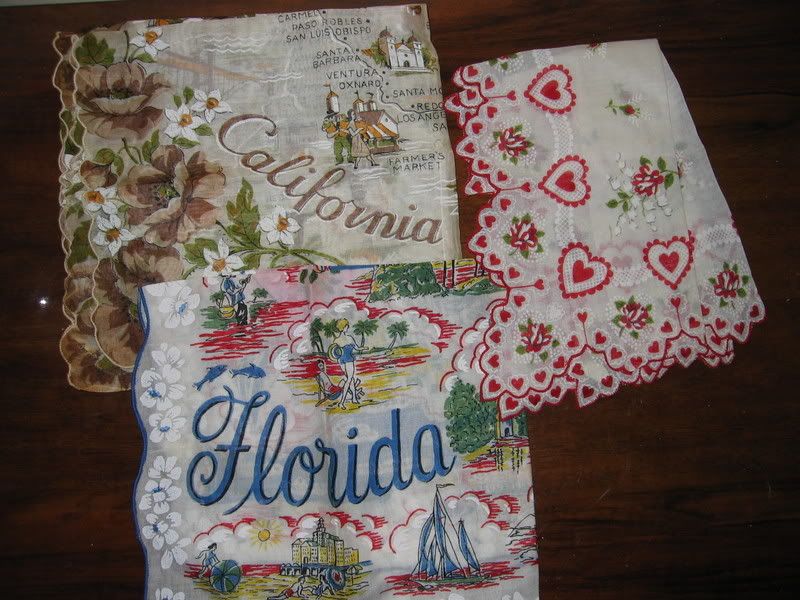 I snatched them up and stuffed them under my arm and headed for the check out. I really thought this was going to be one of those times that I wouldn't make it out of there alive. I imagined some little old lady swooping down on me to tell me she hid those hankies and was coming back for them. Then I thought that the guy at the register would tell me I
couldn't
buy them because they weren't priced. I put them on the counter and looked at him expectantly. He looked at them, scratched his head and said "These will be 39 cents each, okay?" Um yes. That is completely okay. Thank you.
So all in all, some fairly decent
thrifting
over the last two weekends. I guess I was due. :) I was also lucky to run into my friend Susan at the Northern Thrift on Saturday. Susan - don't forget to let me know about that street fair you mentioned!!
Cheers,
Rebecca