Hello! I'm back! And boy have I missed you guys. Luis and I had a lovely vacation which was much too short. They always are. I got a touch of sunburn and drank something called a Naked Angel. It was very yummy. I should go on vacation all the time. ;)
So when I was visiting my parents my Mom asked me to help her go through some things in my Grandfather's house. He has recently moved to a nursing home and they are planning to rent his house to give him a little extra income.
That's my Pop when he was in the Navy during WWII. He was stationed in
Saipan
. Sorry for the glare, I only thought to snap a shot of the picture I took from his house this morning on my way out the door. I need to scan the photo in I think.
So why the luck of the Irish? My Granny, who passed away in the late 90s, was Catherine
Mulaney
. About as Irish as they come. I found this in her pantry: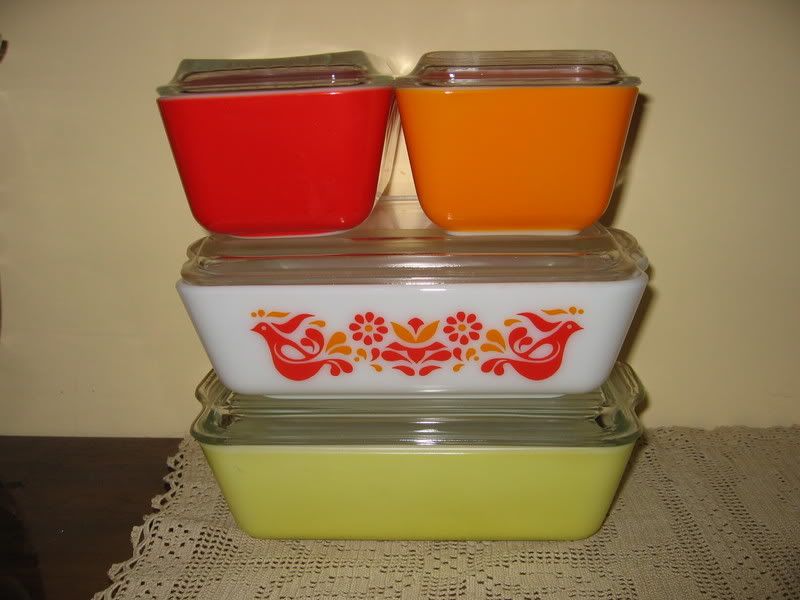 Thanks to my resident Pyrex Expert
Sarah
, I know this is the
Friendship pattern
and I believe it's a complete set. There are 5 dishes in all and the lids are intact. The only difference I noted where that the lids of the two large
refrigerator
dishes are different. You can see it below: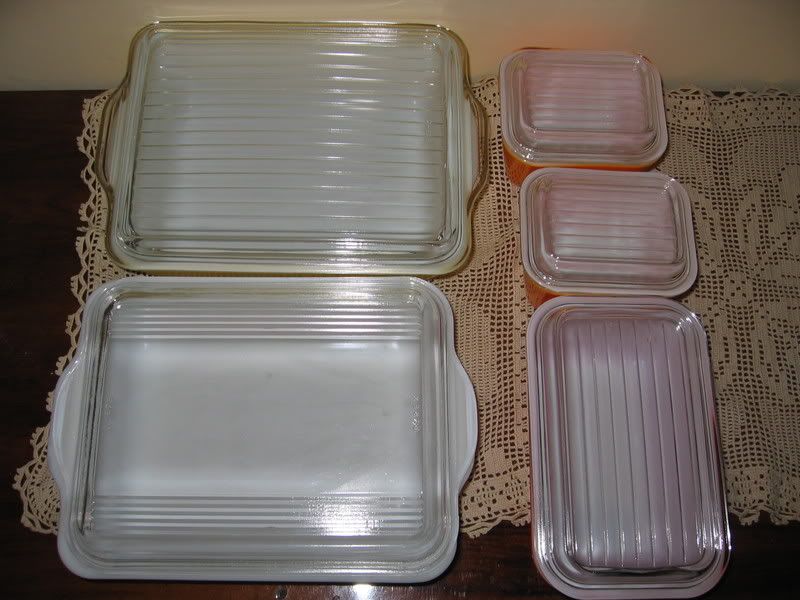 Notice how the bottom large cover doesn't have
consistent
ridges like the other lids do. Does anyone know if this is the original lid? I'm so excited to have this set!
I have some more things to share from my
Pop's
house but first, right after we left his house we stopped at the thrift and I found this:
This is the
New Holland
pattern and this is a large baker, I'm guessing the 2.5 quart. Usually when I see colored Pyrex at the thrift it is badly worn. So I guess I have a collection now! I already had a few of the
Butterprint
refrigerator
dishes but this is the best haul yet.
So what else was at
Pop's
?
Four pieces of Franciscan Ware that I just adore! It's so pretty. I also found an old box of Christmas wrapping paper and a few pink ornaments that will look great on my feather tree.
And did someone say orange and yellow??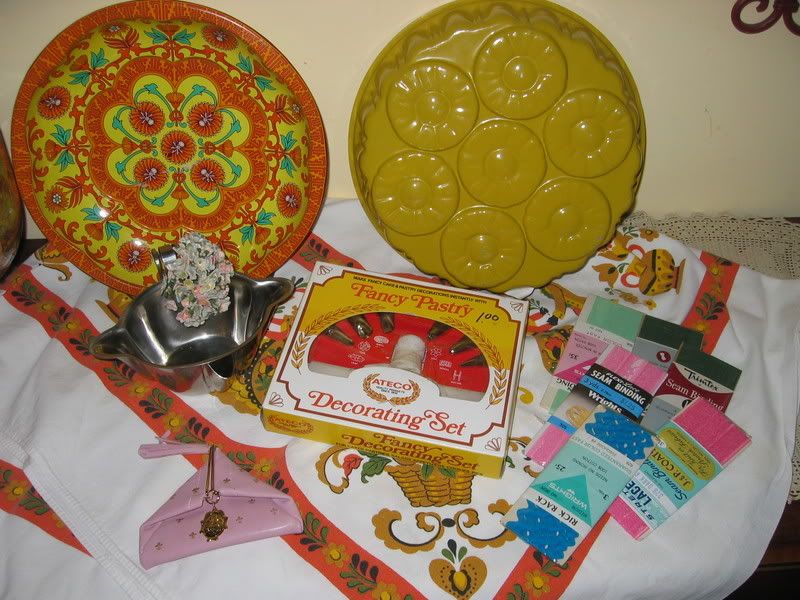 This is all from the thrift store and the orange & yellow pieces you see MAY be part of the prize packs for the container contest winners in the Summer Fun Swap over at
Sweet Goodness
! Don't you just love that metal pineapple upside down cake pan?? I have a mini cake pan that matches. :) And that table cloth! Usually I don't find something in the exact colors I'm looking for. What a lucky find. And my favorite item from above?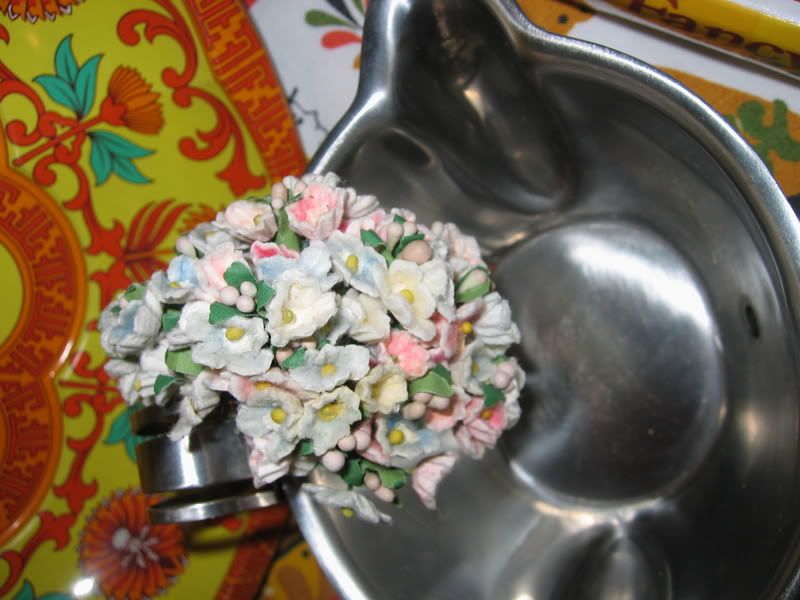 This tiny bunch of vintage velvet
millinery
flowers was hiding in a bag of fake silk flowers and tiny baskets. :) Yes, it was a lucky day.
So it's good to be back and I'm glad to share some unique finds with you. Now I need to catch up with
every one's
blogs and get my Summer Swap package out. I'll be seeing you soon!
R.R.