So around
blogland
you'll see lots of way people obtain and organize their inspiration. I myself use
Bloglines
for my inspiring reads (thanks
Sarah
!) and keep notebooks of the things I would like to make or replicate.
I always use quad ruled composition books and quad ruled computation notebooks.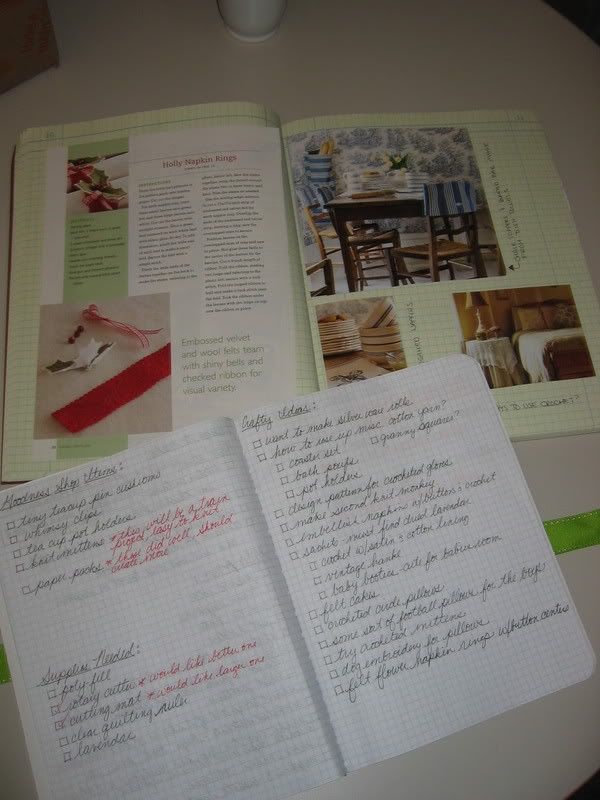 Because of the large pages in the computation notebook I use it for magazine clippings and things I've printed from the
Internet
. You can fit a whole page and still have room for notes in the margin. I use
Pritt

Glue-It rollers
for the adhesive. I love them but they don't seem to last very long. I use the composition books for lists and designing. I like the quad ruled because I make little check off boxes for my "to dos" and also can go by a scale, 1 block equals 1 inch or whatever, for designing. This is a system that works well for me. When inspiration strikes, I just grab a notebook and write it down! I also use red pen as contrast so I'll notice the notes I made right away. Also, I sort of like red pen.
So what else is new? I haven't made any progress on
that baby blanket
but I agree with the consensus to keep it one color. Thank you all for your thoughts! They were very helpful. Now I'm deciding if I want to keep it at all because it just doesn't seem like a practical blanket for a baby. I just see little hands getting caught in the lace sigh . . . That seems to be the way it goes for me lately, a whole lot of starting and then restarting but no finishing. I did, however, manage to finish this:
It's my favorite baby bonnet pattern and was a custom order from Melissa. She is a photographer and wanted it as a prop for her baby portraits! I'm very excited to see it on film, pretty cool huh? You can visit Melissa's blog
here
. Her baby pictures are so cute!
So I'm off to Baltimore tomorrow night for
my Sister's
Fairytale Picnic. I'm really looking forward to it and will be back on Monday with lots of pictures to share. I had such a great time planning my
Bridesmaid's Tea Party
that I know this will be a fun event as well. Have a fabulous
looooong
weekend and I'll see you next week!
cheers!
Rebecca