Hello! Yes I'm still here. Just been busy with work and holidays and all that. :) How are YOU? I have so much blog reading to catch up on! Hopefully soon you'll be seeing me in your comments section. :)
So no messing around, let's get right to the thrifty goodness . . .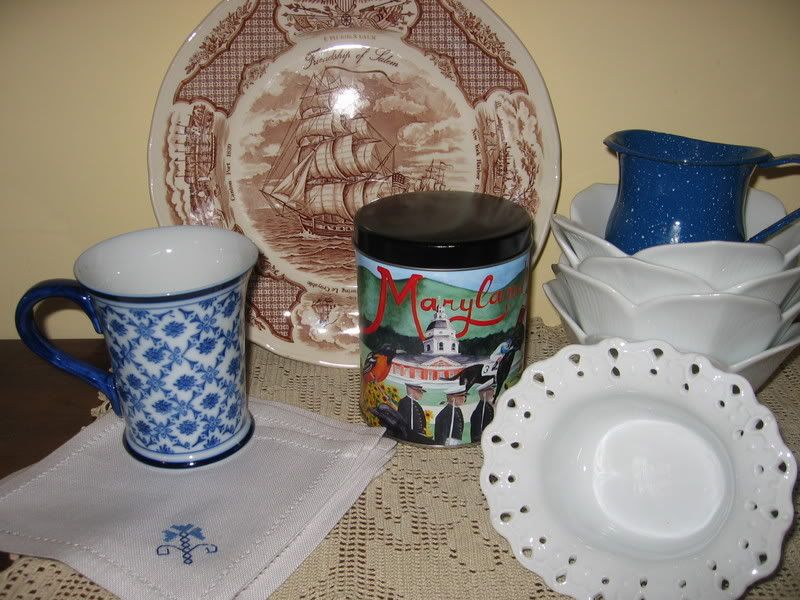 brown "

transferware

" plate - $2 -
I collect these in all colors. It started with a set of blue and white dishes found years ago at a Goodwill. Now I am lucky enough to find one here and there and currently have at least one of each color (brown, green, red & blue) in my collection. We eat off of these plates, they are not displayed.
blue

enamel

pitcher - 50 cents -
cute, blue, little. :)
Lotus Bowls - 79 cents each -
these are Pier One and I was very lucky to find four at such a
bargain
price! I have some smaller lotus bowls, rice bowls I believe, in white and pale blue.
Mikasa

Ruffles Basket - $1 -
I love white accents and this is nice as a "catch-all" on my dresser.
Maryland tin - 25 cents -
as you know, I am from Maryland and was tickled to find this in a Long Island thrift store.
cocktail napkins - 49 cents each -
there are 6 of these and only one is a little damaged. I love the tiny blue embroidery.
blue & white mug - $2 -
just pretty I thought. From Harry & David. I have a small blue and white plate from there that this matches pretty well.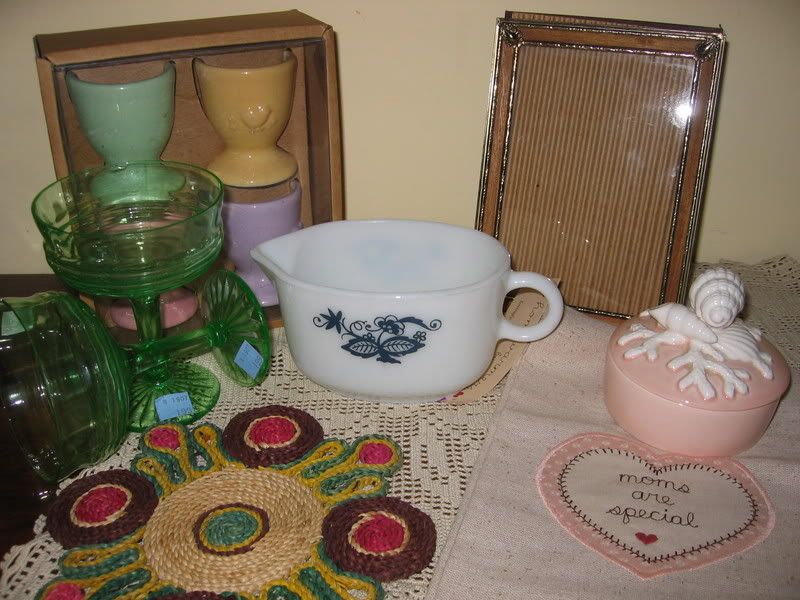 egg cups - $2 -
originally from Marshall's and already stashed away for next year's Easter brunch.
Pyrex gravy boat - $3 -
I have another one of these in a different pattern. I am planning to put small plants in them for the kitchen. Maybe herbs. Cute, no?
frame - $1 -
this is one of those vintage frames I just adore. That brown in the frame edging is wood. I have one that is just the same but has mother of pearl in the edging. I think this one will hold a picture of Luis as it's quite
masculine
don't you think?
sea shell box - $2 -
I plan to gift this. I may have a thing for little boxes. Maybe I plan to keep this
LOL
linen tea towel - $1 -
Mom's ARE special.
hot pad - 49 cents -
you can never have too many of these. I thought this one was particularly cool.
green depression glass champagne glasses? - $2 each -
champagne?
sherbet
? I don't care, I love the color of the glass. I do think it is
vaseline
glass though not really sure. The rims are a bit chipped but I plan to use them for display so I'm okay with that. :)
And my FAVORITE finds?
How awesome is that bike basket??? Do you SEE the
tassel
? Oh I love it. It's already gone to the
sunroom
to be a holder for mail. Don't know if it's vintage or not. And the milk glass
sherbet
dish?
Definitely
a close second to the basket as I've been looking for some milk glass items to accent my living room shelves. It must have been compote dish day as I found this one and the two greens ones plus a very cool clear glass one that I realized was broken when I got home. :(
And last but certainly not least, I found this sheet: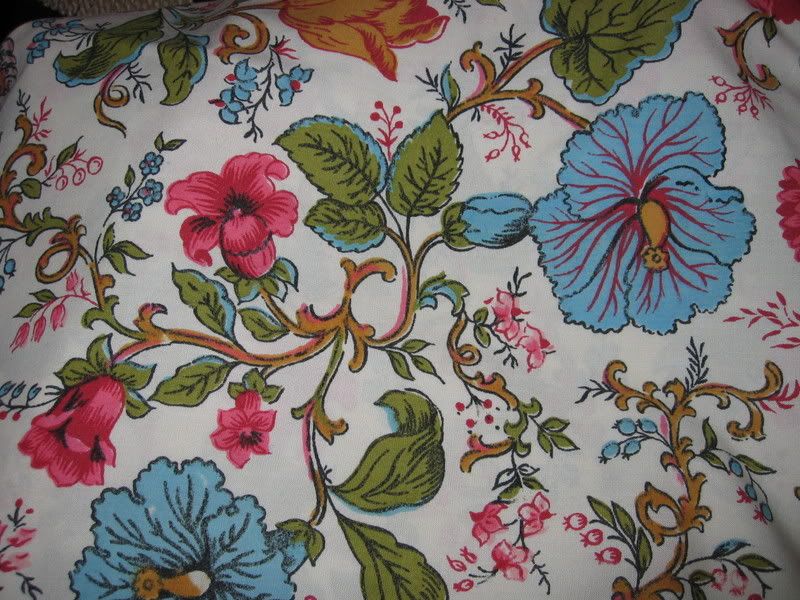 Gorgeous! I think someone made the sheet as the stitching is a bit dodgy in places and there are no tags. It's a nice heavy cotton, too. Now if only I sewed . . .
LOL
. . . don't worry, I will use this for something I just know it. Pretty tote bag maybe? To line a knit bag? To make that bed side organizer thing from the Amy Butler book?
I'm going on vacation and won't be back for a week. I'll post when I return!
RR
PS - don't forget the deadline for sending out your Summer Fun Swap is now July 23rd!