Look what I got: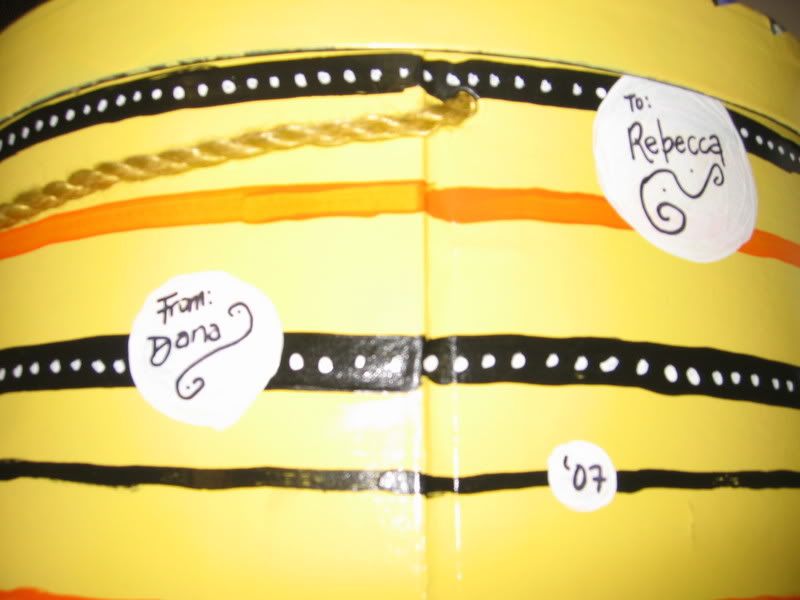 Oooooo
what is it???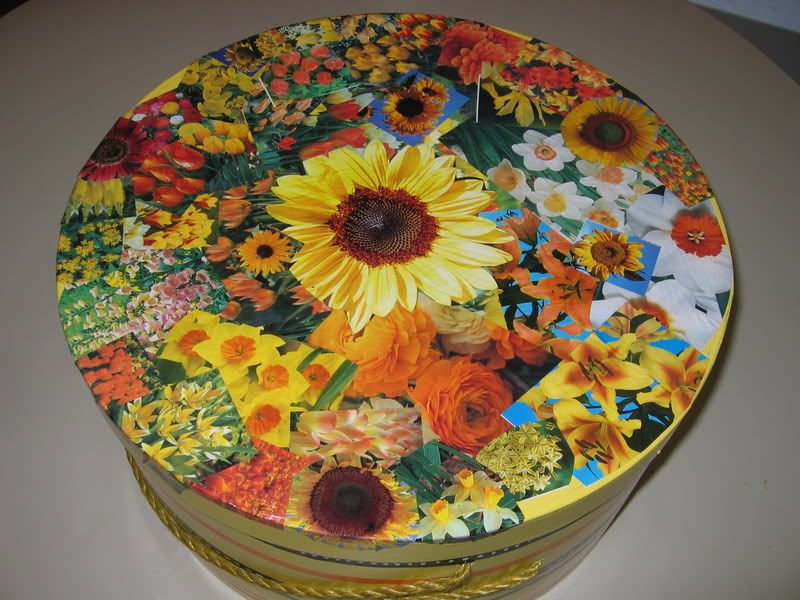 Why it's a hat box full of sunshine from
Dana
! She painted it and then decoupaged the top with happy flowers!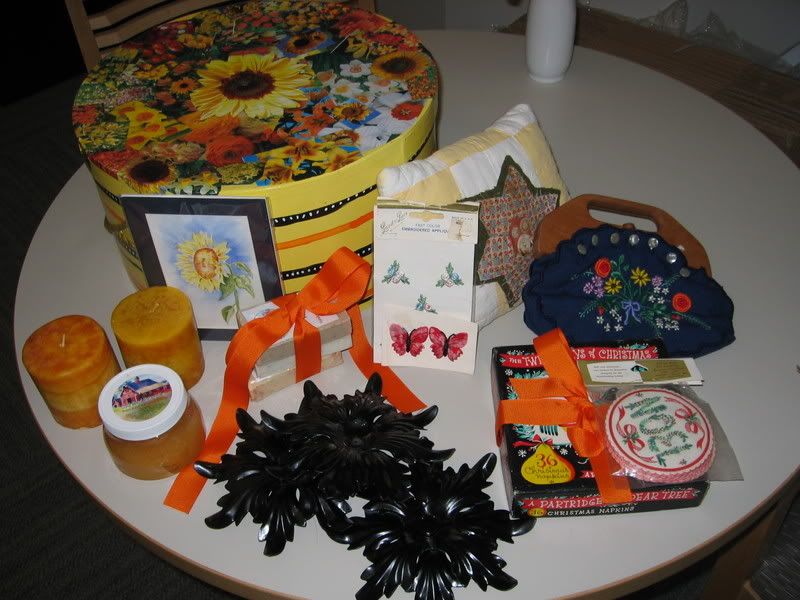 Look at all of the goodies! How about a closer peek?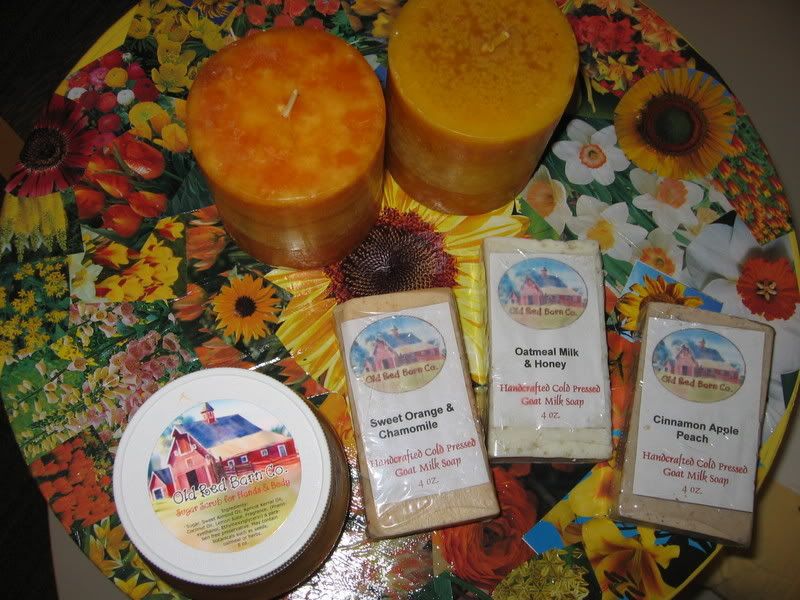 Dana makes hand made soaps and sugar scrubs and lucky me, I got a HUGE set! You can visit Dana's website where she sells her goodies
here
. The soaps she sent me are Sweet Orange & Chamomile, Oatmeal Milk & Honey and Cinnamon Apple Peach. I can't wait to use them! She also included two lovely orange candles that look
homemade
to me. Dana?
Before the swap Dana emailed to ask if my house had white accents or black and then she painted those adorable wall ornaments to fit my taste! The black will go perfectly with my butter yellow walls and rich red accents. And see that sweet sunflower water color? Dana knows the artist, Carolyn Molder!
The little quilted pillow has that perfect rustic country look about it and will go perfectly on my sun porch. The floral hand bag is so sweet and look at the appliques! Don't you love the butterflies? Dana thought the pink, blue and white flowers would go well with
my crocheted tea cup pot holders
. The Noel paper coasters are vintage. And speaking of vintage Christmas . . .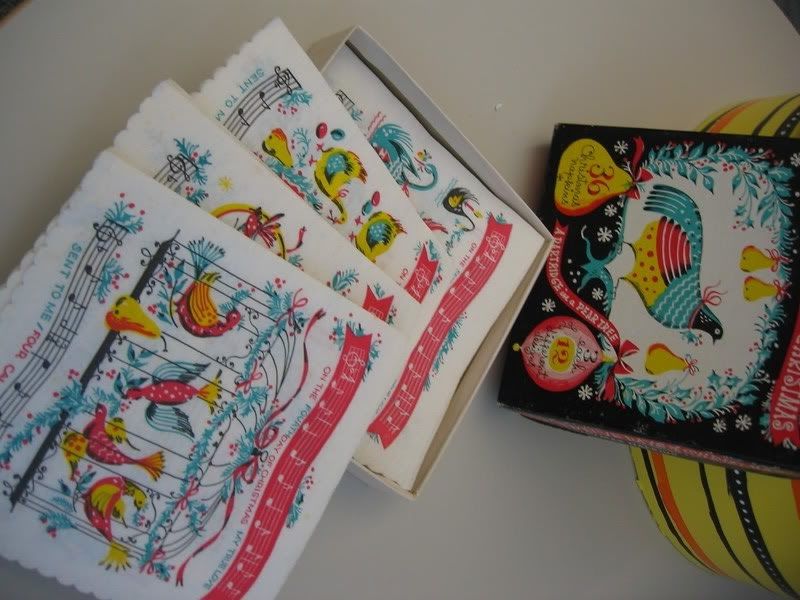 Look at these cute vintage Christmas napkins! They are the 12 days of Christmas and came in the best box. I love them! (I think if you click on the picture it will rotate it properly,
Photobucket
is being difficult today.) I love the 12 Days of Christmas. Funny story, when we were kids my parents would have a Christmas party every year and the whole family would get together. At some point in the night my Aunt Gloria would assign small groups one of the days in the 12 Days of Christmas and that would be your group's solo in the song. Everyone wanted 12 so they would only have to sing once. :) They taped the song each year and we would listen to the previous years singing before taping the new year. We were awful! The word "
caterwauling
" comes to mind. ;) Anyway, one year when
my sister Mandi
was about 4 years old she didn't want us to sing so she sat under the table with her hands over her ears and screaming at the top of her lungs. When you listen to the tape you would hear everyone sing "And a partridge in a pear tree" and then Mandi would yell "SHUT UP!" really loud.
Ahh
, sweet family memories.
ANYWAY, thank you Dana for such a wonderful swap package!! If you have better pictures of the goodies you sent than I do please post them! I took quick pictures so I could show everyone all of my great stuff.
Cheers!
Rebecca