The weather has changed here! After some big rains we had lovely cool temps in the low 70s. So on Saturday Luis and I took a drive up to Bear Mountain.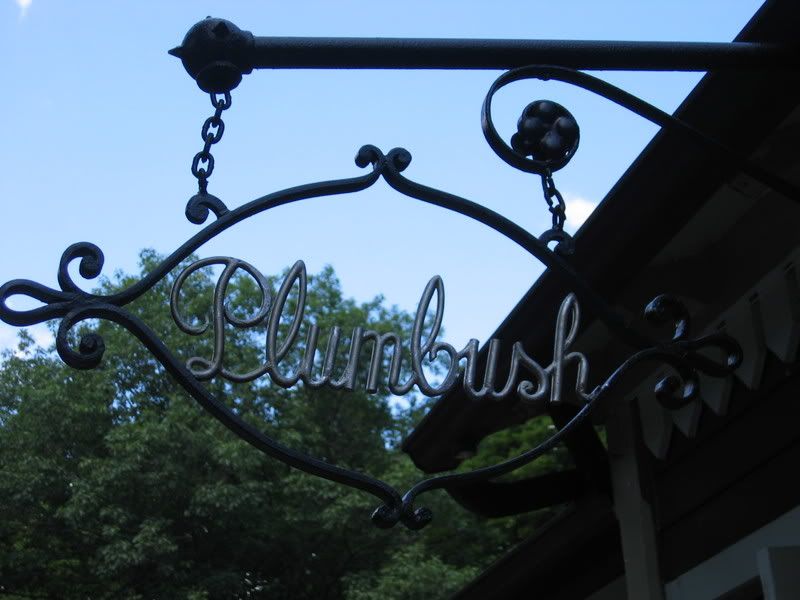 Our first stop was the
Plumbush

Inn
in
Cold Spring
, a town just past the mountain and right on the Hudson River.
Cold Spring
is one of my favorite places to visit. I've been there several times and always enjoy it. They have numerous antique stores and quaint little restaurant. This is a view of the grounds of
Plumbush
from our table: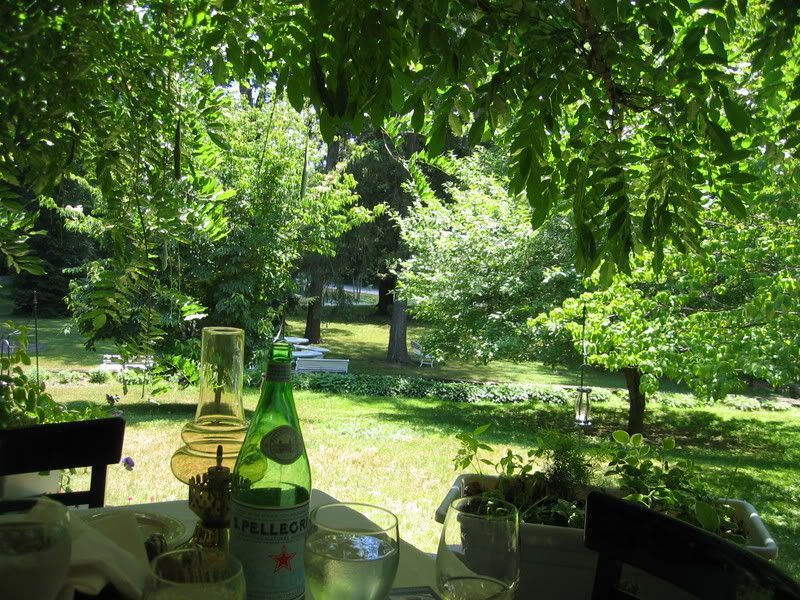 The weather was breezy and we sat on the veranda. The food was excellent, the wine crisp and the view superb! Bliss!
We then went to
Bear Mountain State Park
.
Young black bears live in a habitat on the mountain. You can see how close we were to them and there are no fences, only a ravine which I'm assuming they can't jump. However, the young bears really could care less that we were there. They
frolicked
and played like any kids would on a breezy summer day.
Here's handsome hubby in front of a statue of Walt Whitman:
People in the Northeast sure love
Walt Whitman
. You find statues of him everywhere. Someone should do a whole blog called "Where's Walt?" or something like that.
To the Garden the World
Walt Whitman, Leaves of Grass
To the garden, the world, anew ascending,
Potent mates, daughters, sons,
preluding
,
The love, the life of their bodies, meaning and being,
Curious, here behold my resurrection, after slumber;
The revolving cycles, in their wide sweep, have brought me again,
Amorous, mature—all beautiful to me—all wondrous;
My limbs, and the quivering fire that ever plays through them, for reasons, most wondrous;
Existing, I peer and penetrate still,
Content with the present—content with the past,
By my side, or back of me, Eve following,
Or in front, and I following her just the same
And just so you can get a peek of how beautiful our day was:
The Bear Mountain bridge across the Hudson. We plan to go back again and walk the trails to
Fort Montgomery
which played
a major role in the American Revolution
. Happy Fourth of July.
cheers,
Rebecca
*****************************
Just a note . . . seems my post on Friday about cheap finds at the dollar stores may have ruffled some feathers and brought up issues of cheap labor forces in foreign countries. While I consider myself aware of these issues and countless others I do not wish to make this blog a place for discussion of them. I am more than happy to discuss these issues through emails but would rather not do so in this public forum. I feel it can lead to bad feelings and this is a happy place! I will refrain from posting about other dollar store finds so as not to offend anyone and do appreciate the additional information provided on the topic. I'd rather stick to thrifts and crafts and the occasional ramblings on other mundane subjects. I hope you understand and consider to give your opinions, I really do love reading them. I only wish to keep things light and cheerful here at Thrifty Goodness. Thank you.