Hello! I know it's been FOREVER since I've posted and even longer since I've been able to catch up on my favorite blogs. I've been busy! Whew! I actually have a few things to post about so you can expect to hear more from me. :)
First I'd like to share some photos from my dear friend Dana's baby shower. Dana is expecting a boy on April 22
nd
and her sister in law, mother and I threw her a lovely Blue and Brown bash. :)
Corey, Dana's
SIL
, made gorgeous bird houses and potted plants with chipboard bird picks for all of the tables.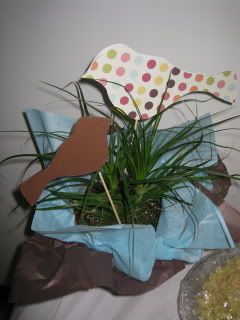 Don't you love those bird picks? What a great idea!
We also had this wish tree. It's an actual peach tree for Dana to plant and everyone at the shower filled out cards with wishes for the baby and advice for Dana to hang on it.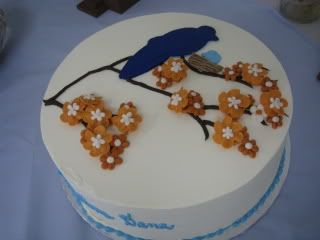 The gorgeous cake is from
Sugarbakers
which is where Dana, my sister and I all had our wedding cakes made. The cake was delicious!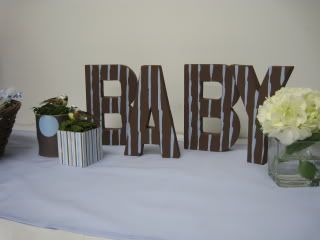 Corey also made this cute baby sign and the little bird nests. She is so talented! And do you believe she says she's NOT
crafty
??
Dana's mother did the adorable favors which were chocolates and little seeds to plant. I can't wait to grow myself a little
lavender
garden!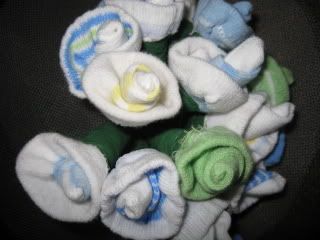 And Dana's other sister in law, Charmin, made this super cute baby
bootee
bouquet. Adorable!
I did the games and did make some super cute baby bingo cards but of course forgot to take a picture! I did get some shots of the gift basket my mother, sister and I put together:
My Mom organized the basket, she is very good at that sort thing. And who is that peeking out the front?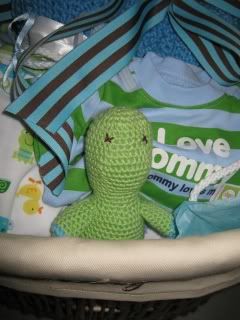 Why it's my little crocheted dinosaur. :) Finally he has some eyes! Dana also loved
the sweater I knit for her
and asked for a matching hat.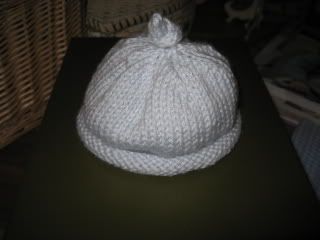 A fun day for all involved!
xoxoxo
RR