I've always wanted to learn to cook and bake the right way. You know, when you can look in your fridge, see 5 random things and whip them into a gourmet meal. I would love that!
To celebrate my new motto, "You're not getting any younger!" lol I've been trying some new recipes and actually READING those parts in the cookbooks that teach you tricks and techniques. My first endeavor? A
tiramisu
cake to take to a dinner party. Quite risky to make a new recipe and then have other people count on it as their dessert
LOL
. But it turned out great! I tweaked two different recipes and will make it again. Since it's really my own recipe now I thought I'd share it here. It's pretty easy. I am a lazy cook. :)
Rebecca's Kahlua
Tiramisu
Cake
Vanilla

Buttercream

Cake
12 tbs of butter, softened
1 tsp vanilla
1 cup white sugar
4 eggs
2 cups self rising flour
1/4 cup of milk
Preheat oven to 350 degrees. Spray two 9 inch round cake pans with Pam (or other) and line with parchment circles.*
Beat butter, vanilla, sugar, eggs, flour and milk with electric mixer on low until
ingredients
are combined. Increase speed to medium and beat until mixture becomes a paler shade.
Pour half of mixture in each prepared pan. You want your cakes to been thin, so about an inch of batter in each. Bake until golden on top, about 20 minutes. Cool cakes in pans for about 10 minutes and then remove to racks to cool more.
Coffee Syrup
1 cup white sugar
1 cup boiling water
1/2 cup strong brewed coffee
1/8 cup
Kahluha
(you could substitute 2 tbs vanilla or almond extract)
Stir together 1 cup sugar, boiling water, coffee and 1/4 cup rum until sugar is dissolved. Set aside.
Mascarpone

Cream
1 (8 ounce) container
mascarpone
cheese
2 cups confectioners' sugar
1/8 cup
Kahluha
(you could leave this out I would think)
1 teaspoon vanilla extract
2 cups heavy cream
Combine
mascarpone
, 2 cups confectioners' sugar, Kahlua and 1 teaspoon vanilla in a large bowl. Whisk together until completely smooth, scraping the bottom of the bowl to remove any lumps. Gradually whisk in the heavy cream. Whip with an electric mixer until soft peaks form. Stop whipping when the mixture shows the first sign of graininess.
To assemble:
Place one layer of cake in 9 inch
spring form
pan. Poke holes in the cake (a lot) and pour half of coffee syrup over cake. Spread a generous amount of
mascarpone
cheese on top. Don't be stingy, you'll have cream left over. Spread all the way out to the edges of the pan. Place next layer of cake on top and press down into pan. Poke holds and pour remaining syrup over top. Spread another layer of
mascarpone
cream. Top with shaved dark chocolate (if desired.)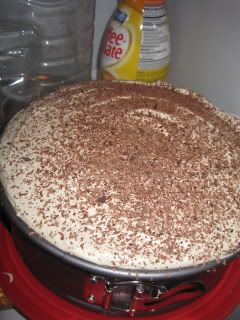 Refrigerate
cake for AT LEAST 4 hours. This is very important. You can leave it over night if desired. Remove side of
spring form
pan and enjoy!
This really is an easy cake to make and it's quite impressive!
LOL
I do think next time I'll go a little easier on the cream for a better presentation but that is the yummiest part of the cake. I've frozen my remaining cream (I had about 2 cups left over) and plan to make vanilla butter cake cupcakes and make mini
tiramisus
this weekend. I got the idea from
this book
. My Mom found it at the thrift store. It has some fun cupcake ideas in it. I think I'll try the banana caramel ones sometime soon. :)
If anyone tries a
tiramisu
let me know! You can leave out the Kahlua or
substitute
dark rum or extracts. As long as you use strong coffee in the syrup it should have the traditional
tiramisu
taste. :)
hugs
Rebecca
* - trace your pan bottom onto parchment paper and cut out a circle. Voila!