Yikes. There is A LOT of snow out there. According to New York 1, Queens received the most snow and my area was at the top with 10.6 inches. I wasn't even thinking yesterday morning when I opened the door to let the puppy out and he
leapt
into 8 inches of snow! He was a trooper though. I stayed in, huddled up and worked on a few projects I have in the mix.
But seriously, where is Spring?? I'm soooo ready.
I hauled out the Springtime Crafts book for some warmth. I hope to make myself a chicken this year. I was happy with
the bunnies I made last year
. It's about time I hauled out the sewing machine, too. Especially to finish that beach quilt I started in that bunny post almost a year ago
LOL
Also putting me in a Springy mood are these super cute little bunnies my sister gave me:
Another
Treasure Sale
find! Look at that too cute
chenille
stem and feather carrot! And what did I find at the thrift store to fend off the winter blahs?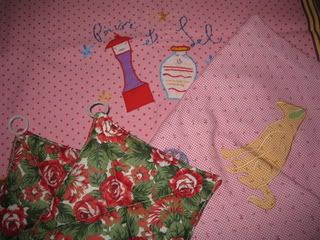 The sweetest pair of handmade pot holders and TWO dishtowels from
Anthropology
! I seriously wonder how they ended up at my thrift in no-where Long Island with the tags still on them. But who cares, they are mine now! I particularly like that one with the dogs on it. I wonder who spends $18.00 on a dish towel? I was happy to get them for 99 cents a piece.
And what else does Spring bring? Hockey playoffs. :) Yes, I know, not very crafty of me but we all have our vices. Got Henrik?
And before I forget, here are the players in the
First Thrifty Goodness Craft Challenge
:
Sarah
Jane
Caroline
LeeAnn
Shara
Dana
I can't wait to see what everyone comes up with! I'll post all the links here at the end of the month.
So I'm off to Baltimore for my best friend's baby shower. I'll be back next week with photos and hopefully a shop update.
Hugs
Rebecca