This past weekend I went to Baltimore to go to a Treasure Sale with my mother and sister. It's held 4 times a year at a retirement community where Mandi works and the money raised goes to support programs for the residents.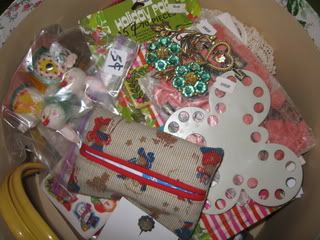 One man's trash is another man's . . . well you know the drill. :) I picked up lots of fun little items like the handmade tissue holder and floss minder (butterfly) plus vintage playing cards, postcards and a few crafting
supplies
.
I thought one of my best finds was this vintage hat box:
I saw it under a table and yes, I crawled down there and hauled it out. Only $1 for this treasure! It's in such good shape that I thought it might be a
reproduction
but my Mom has one just like it (we compared them closely) and I'm convinced it's a real vintage beauty. It looks fabulous in my craft room next to the vintage "Easter Parade" bag I recently found at my regular thrift.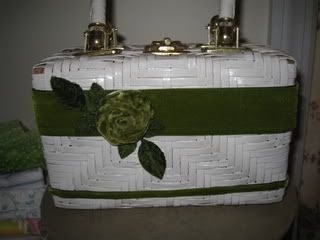 Did you carry white "wicker" purses like these for Easter as a child? This one has a lovely green velvet ribbon and rose adornment. Yet another treasure to me. :)
Another favorite treasure sale find is this sweet little embroidered towel. Originally I thought to put it in the shop but I really don't think I can part with it. It also makes me want to try my hand at embroidery.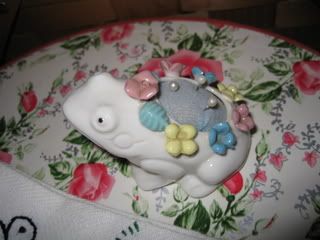 I also scored this adorable little
froggie
pin cushion. He might be one of my favorite all time finds. I sort of collect pin cushions it seems and I'll share some in a future post. I'll also share some of my craft room
re-dos
and a few other collections that seem to have popped up over here. Funny how that happens, isn't it?
To all my loyal readers and friends, thanks so much for sticking with me even though my posting seems to be erractic lately. Your comments make me smile and make
blogging
so much fun. I hope to have some fun posts soon including a series of vintage patterns. More on that to come!
I wish you all fabulous treasure hunting!
xoxoxo
Rebecca