I know that many of my readers are participants in
Sweet Goodness Swaps
.
Lucy
,
Leigh Ann
,
Heidi
and I have a great time picking out the themes and meeting new friends with each swap. There are always issues but over all, it's a very fun experience. I do enjoy the making part of it as well as the receiving, of course.
The latest swap was Parasols, Pink Lemonade and Polka Dots. I believe this was Heidi's idea and it really sums up a great summer, don't you think? I was lucky to have TWO partners for this swap due to a little mix up.
My first
partner
was Melissa of
Burford

Designs
. Since I know Melissa received what I sent her I'll show it here:
The straw bag was
thrifted
recently. It's from The Bahamas and has a cute little wrist strap. The pink floral napkins are from a yard sale and that small parasol was
thrifted
YEARS ago and recently unearthed in my Mom's garage. I crocheted her a sweet peony corsage that I thought would look so cute tied on a summer picnic basket and made a square pin cushion in yellow and pink, the colors of pink lemonade! I was very happy with the
way
the pin cushion turned out as it's box shaped and this was my first attempt at a side gusset. I also tossed in a few yards of orange and lemon ribbon and a Martha Stewart Best Wishes Banner which is printed on round circles
that
reminded me of polka dots.
My other partner was Chrystal. She lives in Canada and does not have a blog at this point. I decided to partner with her when she didn't hear from her partner and didn't want her to be disappointed. Well it turns out her partner was having computer meltdown and did get in touch with Chrystal so we ended up with 2 partners each!
This is what I sent her:
She got the very first Goodness Bag. It has the same lining as
the one I made for my sister
with the polka dots and the bird. This one is also made from the now defunct Lily Elite Cotton but is knit instead of crocheted. The handles are macrame squares that
Mandi
thrifted
for me. The flower is made from a scrap of material
Vallen
sent me like forever ago and I used
this Martha pattern
to make it. I added the button and a pin back to make it a brooch. I also sent her two
thrifted
necklaces and a Faith Austin hankie in fun summer colors, a Best Wishes banner and some of that same lemon and orange ribbon. Oh, and drink umbrellas of course!!
Here is a close up of the lining: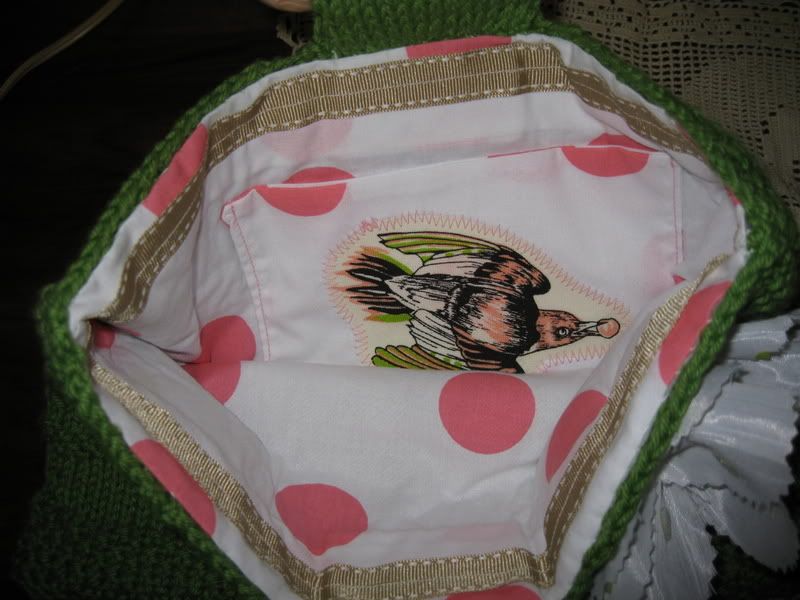 I added ribbon around the top of this one and used pink thread for the top stitching. I am loving the bird! I have an idea for another lining with an applique but I need to get to work on knitting/crocheting the outside part first. :)
As a last minute addition to bo
th
packages I whipped up some cute beaded bobby pins using
this tutorial
:
I used some heavy duty bobby pins I picked up at the dollar store (made by
Scunci
) and some beads that I
thrifted
. The packaging was
scavenged
from my myriad of paper crafting supplies. I am so happy with these that I think quite a few people will be getting them as gifts in the coming year. :)
I received my swap from Melissa and I'm sure
Chrystal's
will be here soon, we decided on a later send out date as we both had other partners, and I'll post about them together.
Oh and remember the Sweet Goodness Swap before this one? Springtime in Paris? Well my friend Dita really wanted to join the swap but missed the deadline so we decided to do a one on one swap using the same theme. Of course I forgot to take pictures of what I gave her, but here was the wonderful package she made for me!
In the back is a binder with a sweet crocheted cover. Dita is the original Queen of Crochet! It's a project book with sections in it for me to store all those great projects I print from the
Internet
. :) Dita is also a great
thrifter
and included the French postcard on an easel, an adorable change purse that we decided MUST be French and that awesome
Fleur
di
lis
pin! She also tucked in some lovely silver "R" seals and a set of stamps that I cannot wait to use! Stamping is next on my "learn more about" to do list. :)
And last but not least:
A Christmas Marie Claire
Idees
! Dita picked it up without realizing it was in French and passed it on to me. She was happy with how thrilled I was! I have always
wanted
to look at one and it is some serious eye candy!
So thanks Dita! You know I love it. :)
I'm still working on my doll, she has hair now but no face. And I'm hoping to clean a bit of my house today before the dust bunnies organize a coup. I have a few more things to add to the shop but since sales are down I think I'll wait it out a bit. But when I do list them I'll be having a give away here to drum up some visits so stay tuned!
ciao
r