Many of you are involved in the
Sweet Goodness
Holiday Sister Swap.
Lucy
and I had high hopes for this one. We wanted to bring people together to get to know each other and become friends. I hope we've
achieved
that! We'll be requesting feedback from our swappers soon to see if we should make this swap an annual event. So please, if you participated, check with Sweet Goodness soon and give us your opinion or leave myself or Lucy a comment on our blogs.
As you know,
Breanna
was my swap sister. Do you know she only lives 2 hours away from me? We are hoping for a spring time meeting perhaps at the Elephant's Trunk Flea Market.
Breanna
and her husband are going to become foster parents in 2008. They already have three wonderful children of their own but are ready to open their home to more children who really need a family's love and support.
Breanna
cares about the environment, gives to charity and encourages others to do so, too.
Breanna
is becoming a great knitter!
Breanna
keeps chickens and once had a bear IN HER YARD.
Breanna
has been the most wonderful swap sister and I hope we'll stay in touch and continue our friendship.
My December Swap Sister package from Ms. Graceful Designs herself:
Look at the goods! Does she know me or what? Dark chocolate, yummy recipes, tea, vintage tatting needles and tiny vintage baby, a sweet embroidered apron, flour sack towels and the adorable
matroshka
fabric I've been
oogling
forever!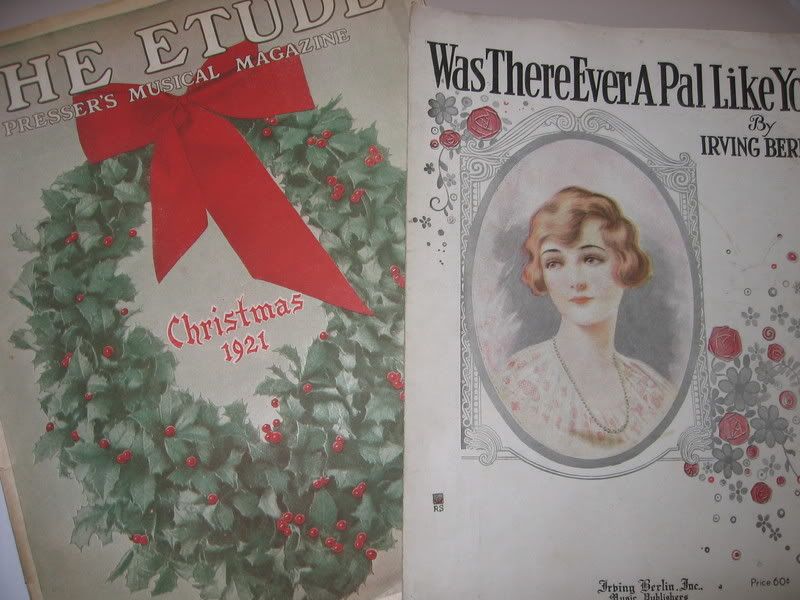 She also sent me ANOTHER vintage Etude
magazine
, this one from Christmas 1921 and a sweet Irving Berlin piece. I think I'm going to frame that one and keep the Christmas music to decorate with.
And now, are you ready for this?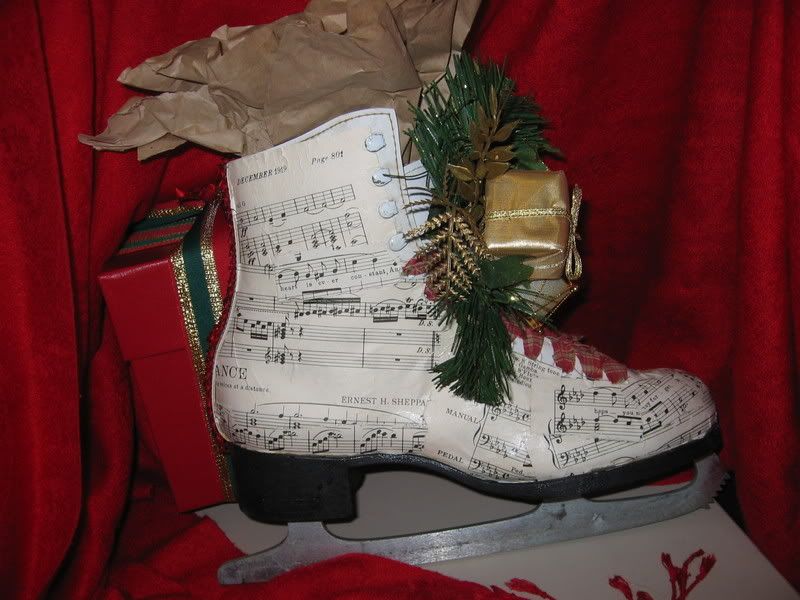 Isn't it the sweetest?? The recipe cards were tucked inside (what a clever holder for them!) I love this, it's perfect for my decor! I'm thinking of attaching a big ribbon and hanging it on my door, perhaps inside a wreath?? Oh I could go on.
So thank you
Breanna
! Not only for this fabulous swap package (and the one in
October
and the one in
November
) but for being my friend and letting me get to know you.
***********************
I am hoping to post tomorrow, too. I also received a lovely surprise holiday package with the most to die for ribbon brooch from
Heidi
. I MUST show you. I love it! I've been truly touched this week by the kindness of my
bloggin
' sisters.
Peace
Rebecca