Believe me, that is a question I have asked myself often these days. I am feeling very non-productive in all arenas of my life. I am starting to worry for my mental health and may take it on a long over due spa vacation sometime soon.
I have no excuses other than the fact that I am exhausted which is making it difficult to focus or finish things. This holiday season has been busier than most for me and I. AM. NOT. ENJOYING. IT. There, I said it. Now maybe I'll cut myself a little slack, shorten my to do list and spend sometime wallowing in Christmastime cheer. Lord knows I need it.
Many of my holiday gift projects are just not up to par. The h
at
I so lovingly (and
strandingly
) knit my sister is tight on my head. Yep. And she has a bigger head. GREAT. So I am not want to finish it. Sigh. And that afghan I started? I know I won't finish that so why bother? The cross stitch sachets and sleep mask for my boss? Half done. The good half but STILL. It's time to FOCUS PEOPLE. Seriously. This Saturday we are hosting Luis' family for our annual Christmas get together. I have come up with a menu that won't stress me out and once Luis decides to escort me to the toy store for some gifts for the kiddies my heart may stop palpitating. On Sunday I need to get things done as it's my last weekend day at home before we leave for my parents on 12/21.
So . . . what HAVE I been doing?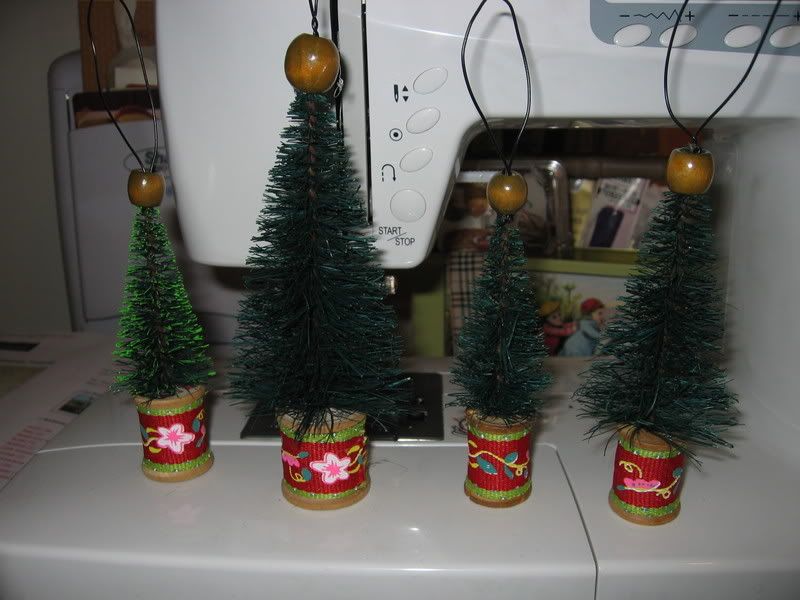 These little guys came together so quickly and made me feel a little better about my non-craftiness. Are they gifts? No. In fact that are wares for a small store in Lancaster where there is a tiny corner of Goodness for sale. Inspired by
Vallen
who says I inspired her to put trees and sewing spools together so it's a whole chicken vs. egg thing. I think they are very "Country Christmas" and I did save one to put on my own tree
I also made these for myself: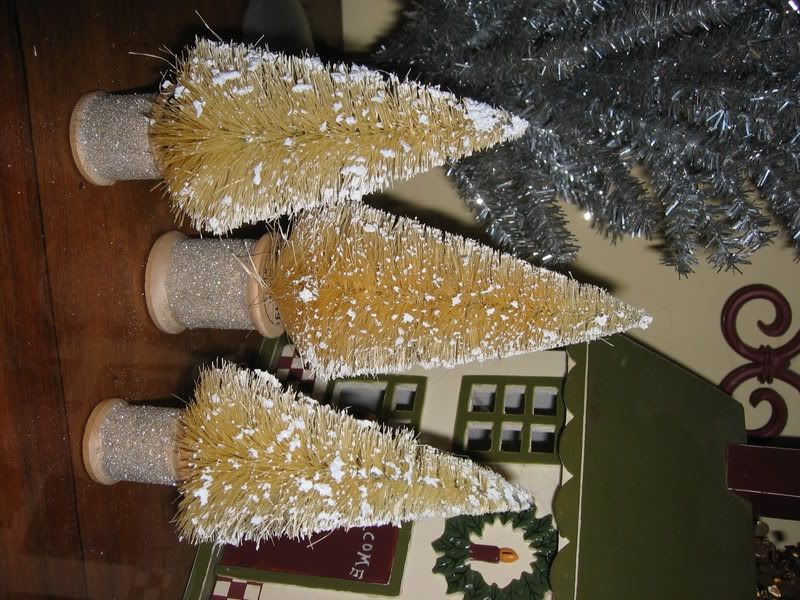 I bleached them a la
Sarah
(they are a bit more white than they appear here), glued them into spools and added some glass glitter. I would like to try for another layer of glitter as it looks a bit thin but aren't they cute?
So at least I've accomplished this small thing and maybe, just maybe, it will be enough to shove me into holly jolly mode. I guess we'll have to wait and see.
cheers
R