I've mentioned before how I work well with a list. I've started all my holiday lists: what I want to bake, gifts to craft, cards to send, shopping and party needs. But I also started another list that is helping me more than the others combined. The January List. This is where I am putting all those things that pop into my brain now but don't really need to be attended to until AFTER the holidays.
THE JANUARY LIST
1 - Do tutorials/patterns on blog
2 - Work on cross stitch projects
3 - Finish shell stitch afghan
4 - Work on embroidery skills
5 - Knit hat for Sweet Louie (aka the husband)
6 - Overhaul & reorganize craft room
7 - Get new curtains for the bedroom and the porch
It's made me feel better to get the ideas out of my head and onto paper which allows me to concentrate on those other lists. I've attached the list to my side bar and plan to update it as ideas come to me. I expect it to be a mile long come January but at least I'll have a place to go for inspiration! Anyone else out there have some sort of January List?
************
I've received two fabulous swap packages this week! Lucky girl! One from my Holiday Swap Sister
Breanna
and one from my Ga Ga for Garlands swap,
Tini
! I'll share them tomorrow as it's a bit too dreary lately to take any decent pictures and you all know I need all the help I can get.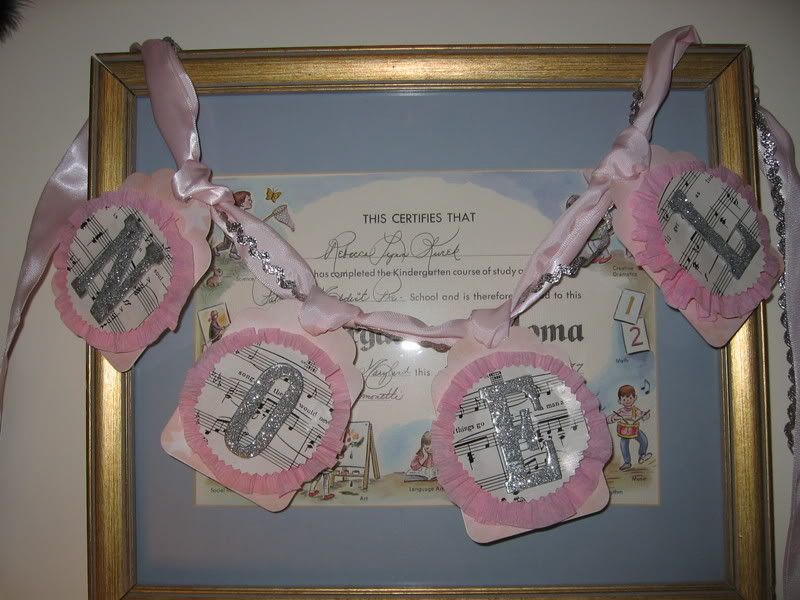 Here is a shot of the garland I sent to
Tini
. I LOVE how this turned out and I'm going to make one in baby blue and silver for myself. I am going to attempt to create a tutorial as I make it since it's fun and easy and someone out there might want to make their own banner. And if I do I will already have a jump on that January list.
What's on tonight's to do list? I'd like to whip up a few of
these beauties
from last year. :)
hugs
Rebecca