I find myself following a pattern at the thrift. I know I'm not alone, I often read of people cutting the same path through the thrift making their first stop in their favorite section. But I'm also
realizing
that lately I'm picking up a lot of similar things. This is good! It means I'm not buying up everything I see which I've been known to do. :)
So what have I
thrifted
recently that is similar to past thrifts?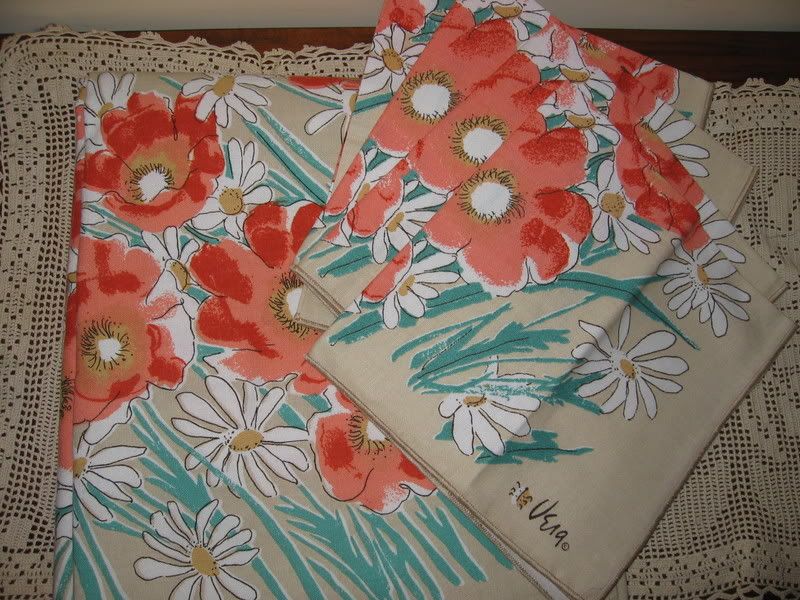 Vera table cloth and set of 4 napkins: this set is perfect! Not a spot on them and perfectly pressed as if never used. I've found quite a lot of fun Vera stuff lately. Like
these napkins
and
these scarves
. Lucky me! I'll admit I've either sold or given away most of the Vera items I've found but I think this set is a keeper.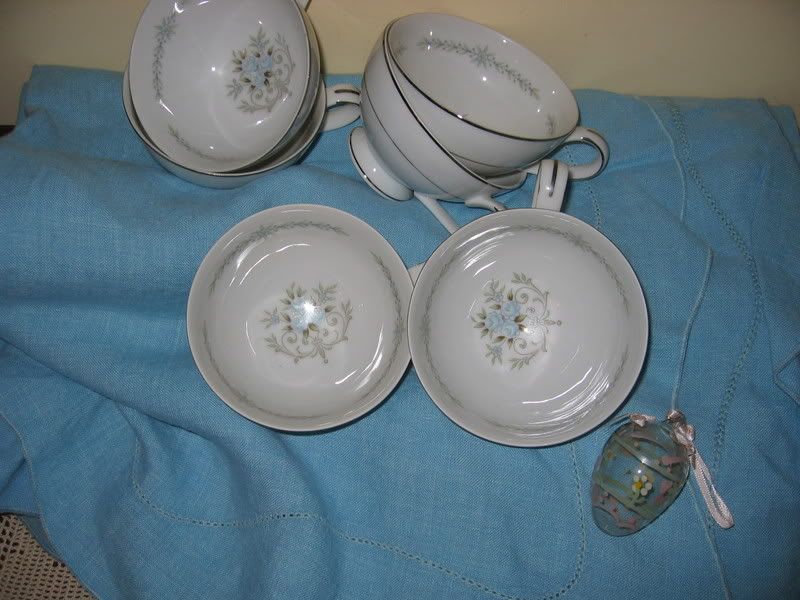 Here is a set of 6
Mikasa
tea cups. I'm sure you remember
all the

Mikasa

china I bought in September
, right? Well these cups really "mismatch" it perfectly, if you know what I mean. :) Also in this photo you'll see a small glass egg on the bottom right. There were 5 of these in a box for 99 cents. Too cute to pass up. And the blue cloth is a linen table cloth with scalloped edging that actually FITS my gargantuan table! Amazing, I know. It will also be amazing if I ever iron this monster. ;)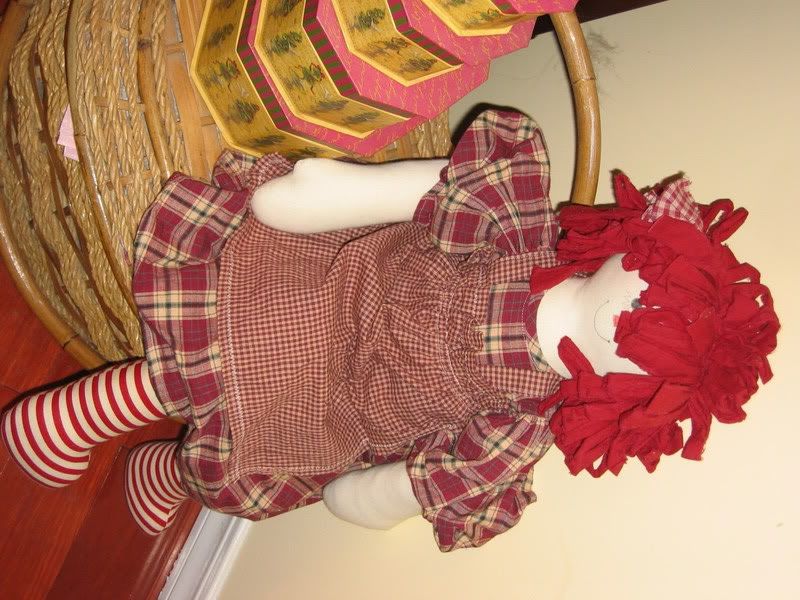 Another fun find is this handmade Raggedy Ann doll. I might love her. I am drawn to dolls and stuffed animals and usually I can resist the urge but I had to have her. How anyone could just give away a doll that someone made for them is crazy. But at least she gets to live in my house now.
We all thrift in patterns I suppose, I'm just
feeling
luckier than usual. :) On a trip to the thrift yesterday I scored three Waverly pillows: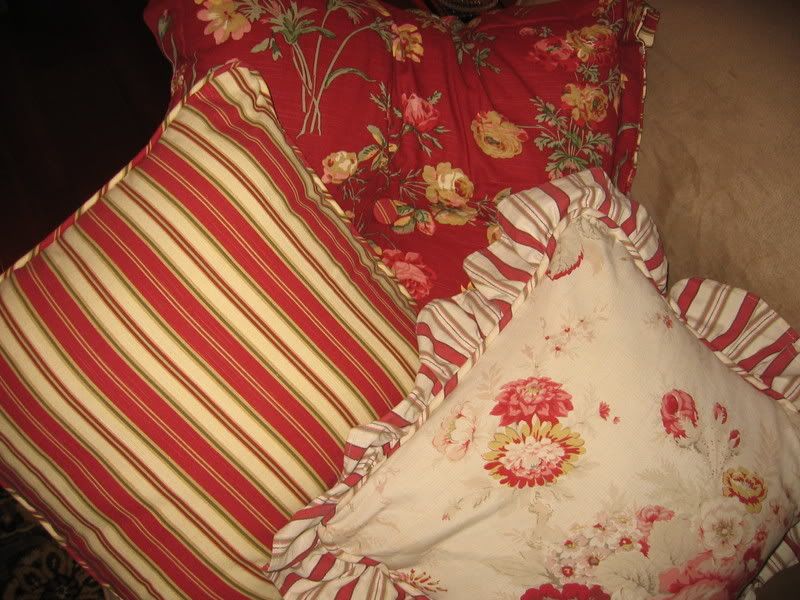 I found two of the large red one's in the back and the striped one is a smaller toss pillow with the same red pattern on the other side. (The large ones are also striped on their other side.) I'm not sure of the fabric name so if any one knows, please hollar! The cushion in the front is Vintage Rose or Norfolk Rose, I've heard both, and it was
thrifted
a few years ago. I have an entire set of table cloths, seat cushions, curtains, napkins, etc. in this fabric thanks my Mom. I also recently
thrifted
a sheet in this fabric that I figure I'll use somewhere in my house someday. Needless to say, I love Waverly and can spot it across the thrift store.
My guess is someone got rid of an entire
Waverly
collection because I was also lucky enough to snag a set of 4
place mats
and 4 napkins in the Waverly Gold Floral pattern with the tags still on them. I have a table cloth in that pattern as well. There were two other Waverly pillows in a different pattern but I didn't want to go overboard, I already had FOUR pillows in my cart. The three red Waverly and this guy:
I think he goes with the Waverly quite nicely and even my husband said "he's cute." So there you go. Luis likes
thrifting
. ;) A girl can dream . . .
It's good to back! I did some crafting this weekend that I hope to share and I hope that I continue to be productive in the weeks leading up to New Years. Wish me luck!
hugs,
Rebecca