While I haven't been too lucky in the thrifty department lately I did want to share some of the fabric finds I've scored through out the year. The post was inspired by the fabric and apron I scored last week: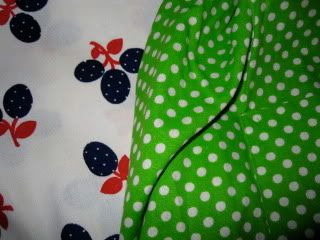 I am LOVING that red, white and blue fabric. It's screaming beach bags to me for some reason. (Maybe because I only seem to make bags and toys, perhaps?) The green fabric on the right is actually an apron:
The top is a pretty patchwork and I believe this was the style that was pinned to your top as there are no neck ties. I will probably use this as fabric but I'm still on the fence.
Here are some of my past vintage fabrics finds: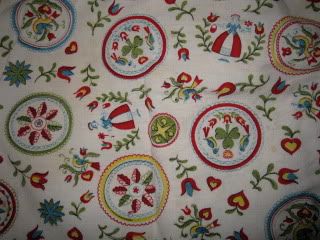 This is an appliance cover much too small for any that I own. I adore this pattern!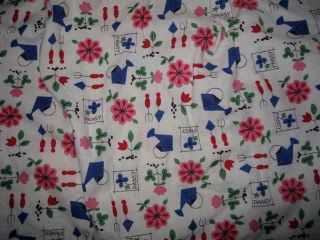 Another apron with no strings destined to be transformed.
I love this fabric. It's a heavy almost canvas feel and there are maybe 4 yards of it. What to do, what to do?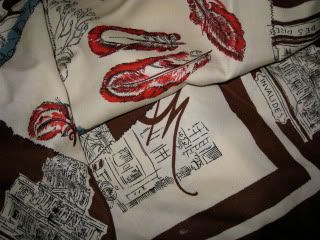 This is very light weight and drapey. It reminds me of vacation scarves and I think I'll try making my own. I may even try doing a
hand rolled hem
. LOVE those red feathers!
There is a ton of this and I am not sure what I'll ever do with it. It' very gauzy and almost see through but was a steal at under $2 and I couldn't leave it behind. Any thoughts?
I found about 4 yards of this vintage madras more than a year ago. And just so you don't think I'm just sitting over here hoarding: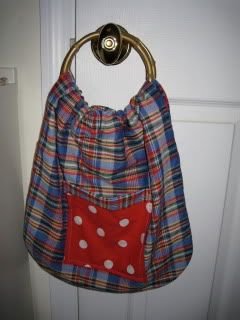 A fun summer bag! (are you surprised, lol?)
While I love the polka dot lining I sort of wish I had left off the pocket on the front and have been considering removing it. I think it takes away from design. What would you do?
Thanks for stopping by! I love reading your comments and ideas. :)