I'm so lucky to have such fabulous crafty friends. When I found out I wasn't going to be involved in a Vintage Vacation Swap this summer my friend Elise suggested she and I do a swap instead. I'm so glad we did!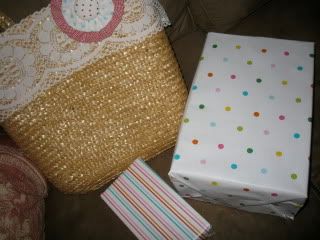 Look how cute! I love cute packaging. I think it really makes a swap feel even more like a special gift.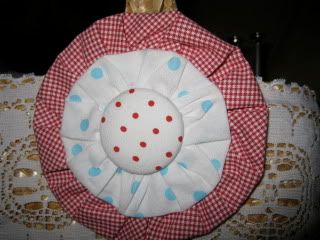 I love the brooch she put on the cute straw tote. I'm sure I'll be sporting this on a coat come fall.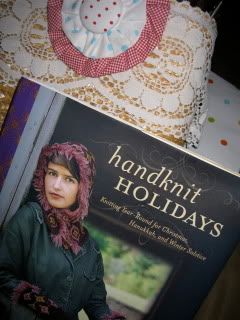 And inside the bag? A great knitting book and needles!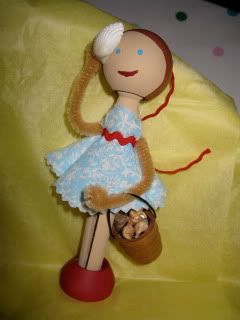 Perhaps my favorite part is this cute clothes pin dolly all ready for collecting shells on the beach.
So many goodies were tucked into the big box including vintage Aunt Martha's transfers, some cute stamps and little vintage book page birds!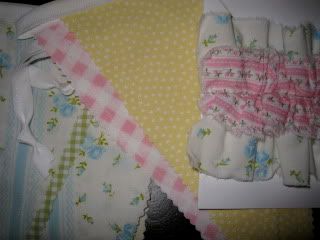 She also made me a lovely pennant banner out of vintage sheeting (which you know I love) and even made a cute card with the fabric scraps!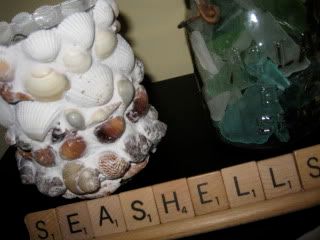 I also love this cute shell encrusted candle holder/vase. It reminds me of
Sailors Valentines
. And how cute are the little scrabble seashells tiles? Along with the great jar of beach glass all of these things are already on my sun porch which is decorated in a pretty pale blue beach theme. Thanks, Elise! What a great swap. :)
Of course I forgot to take photos of what I sent her but I chose a vintage kitchen theme and included a vintage chopper with wooden handle, loads of vintage linens, some cute little heart shaped tins and other goodies. Elise just welcomed her latest addition to her family yesterday so
stop by her blog and say welcome to sweet little Violet!
And please also stop by and see
my latest Trash to Treasure article
at the Examiner, a cute ruffled pillow made from a t-shirt and dress shirt from Tricia at
Oh So Crafty
!
xoxoxo ~ rr