I'm sure you've heard this before. "I'm going to work on cleaning up the craft room." Um yeah. I know. I say it often but do it infrequently. But this time, I delivered.
I. KNOW. I can actually WORK in there. Who would have thought?
I've added a few new pieces like the two tiered basket above and some paper storage cubes I picked up at Michaels this weekend. I took the photos before I put them together but they make it even nicer.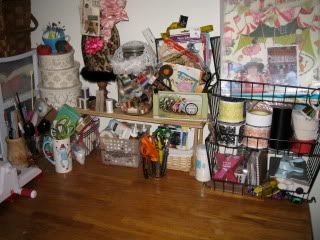 One of the problems with this room is that there is no closet so everything has to be out.
Trying to keep everything neat is also an issue for me. Why? Because I tend to drag out everything and then figure I'll put it away later.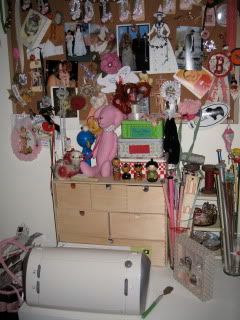 Plus I love displaying not only my creations but those I've received from others. I'll be doing a post soon on my favorite treasures but you can see a few of them in the photos if you look carefully.
There are still problem areas like this fabric pile. I swear it grows on it's own like Gremlins. Sigh . . .
So now the challenge is to keep it nice and neat. I actually did some scrap booking yesterday and YES the paper and other supplies are still out on the desk but I promise I'll put them away later. No, really.
My first day at my new job is tomorrow. I'm nervous and excited and dreading it. Oy. Wish me luck!