I'm so over summer. I hate the hot. Oh and the bugs, too. Don't get me wrong. I love the beach and swimming in the ocean but I'm ready for the cool, crisp fall air, the cold weather fashions and all the crafting and fun that comes along with the big holidays.
I finished my first week at my new job and I'm exhausted! It's hard to get back into the routine of working 40 plus hours a week and still being able to get everything else done. I'm sure I'll acclimate soon though. :)
In other news, I am now the official Arts & Crafts writer for the National Edition of the Examiner! My previous articles were featured on the New York local page while my new articles will appear on the national page. My page will be available
HERE
but it is currently not publishing. Hopefully it will be up soon and I'll be able to get started! I'm looking to highlight crafters across the country plus online shops, products and tools. I also plan to continue the trash to treasure and budget crafting themes as well as DIY home projects. I'll be visiting your blogs and contacting you about being featured! I'm hoping to create a nationwide network of crafters who share ideas, inspiration and info. The only thing I'll need from you is permission to link to your site and use your photos which will be credited to you. And if you could link to the article and help drive readership that would be great! The more readers, the more sponsors and the more opportunities to have some fabulous give aways.
Now back to Autumnal dreaming . . .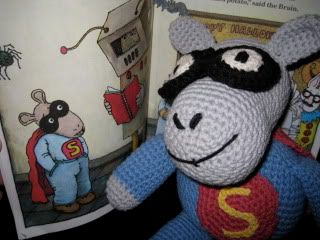 Arthur
is ready for Halloween!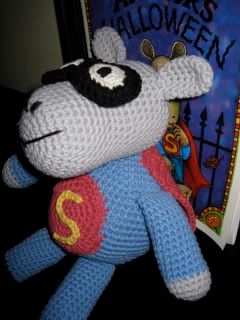 He has donned his super suit and can't wait to hit the streets.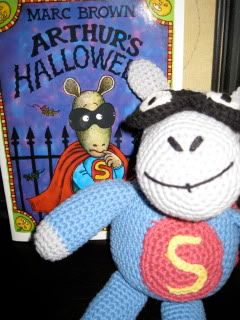 I created him based on pictures in "Arthur's Halloween" which I found at the thrift.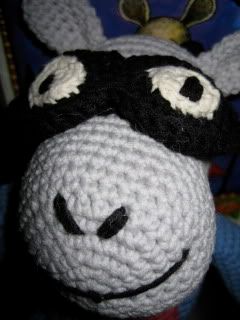 His cuteness is ridiculous. :) He's renewed my love of toy making and I expect to make him a few friends soon. Perhaps another character from the same book? If you have any suggestions for softies that can be based on childrens book pictures/characters, let me know!
Oh and a giveaway is coming soon. More fun Martha Stewart Crafts items! Toodles!